Home
Blog
Composers
Musicians
Black History
Audio
About Us
Links
Composers:
Adams, H. Leslie
Akpabot, Samuel Ekpe
Alberga, Eleanor
Bonds, Margaret Allison
Brouwer, Leo
Burleigh, Henry Thacker
Coleridge-Taylor, Samuel
Cunningham, Arthur
Dawson, William Levi
Dede, Edmund
Dett, R. Nathaniel
Elie, Justin
Ellington, Edward K. "Duke"
Euba, Akin
Garcia, José Mauricio Nunes
Hailstork, Adolphus C.
Holland, Justin
Jeanty, Occide
Johnson, James Price
Joplin, Scott
Kay, Ulysses Simpson
Khumalo, Mzilikazi
Lambert, Charles Lucien, Sr.
Lambert, Lucien-Leon G., Jr.
Lamothe, Ludovic
Leon, Tania
Moerane, Michael Mosoeu
Perkinson, Coleridge-Taylor
Pradel, Alain Pierre
Price, Florence Beatrice Smith
Racine, Julio
Roldan, Amadeo
Saint-Georges, Le Chevalier de
Sancho, Ignatius
Smith, Hale
Smith, Irene Britton
Sowande, Fela
Still, William Grant
Walker, George Theophilus
White, José Silvestre
Williams. Julius Penson
AfriClassical Blog
Companion to AfriClassical.com


Guest Book
William J. Zick, Webmaster, wzick@ameritech.net

© Copyright 2006-2022
William J. Zick
All rights reserved for all content of AfriClassical.com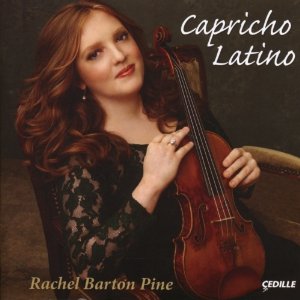 Capricho Latino
Etude No. 6 (a Secundino Arango) 5:11
Rachel Barton Pine, Violin
Cedille CDR 90000 124 (2011)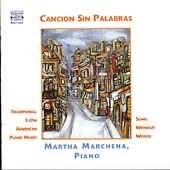 Cancion Sin Palabras
La bella Cubana
Martha Marchena, piano
MSR 1054 (2002)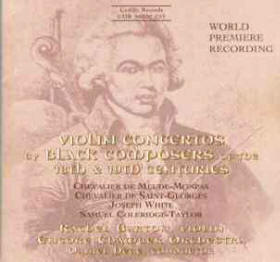 Violin Concertos by Black Composers of the 18th & 19th Centuries
Violin Concerto in F-sharp Minor (21:24)
Rachel Barton, violin
Encore Chamber Orchestra
Daniel Hege, Conductor
Cedille Records 90000 035 (1997)

Home -> Composers -> White, José Silvestre

Français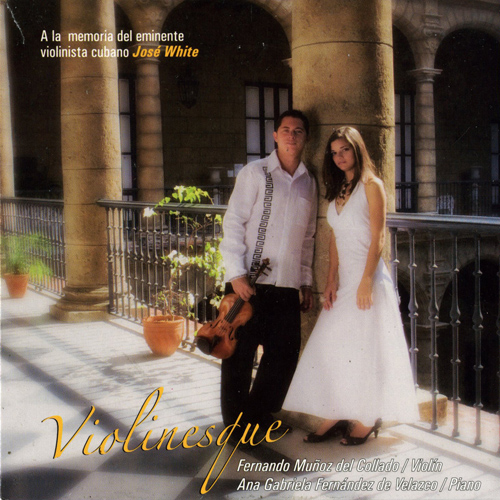 José White: Violin and Piano Music (Violinesque) Fernando Munoz del Colado, violin; Ana Gabriela Fernandez de Velazco, piano; ColibriCD-198
"A la memoria del eminente violinista cubano José White"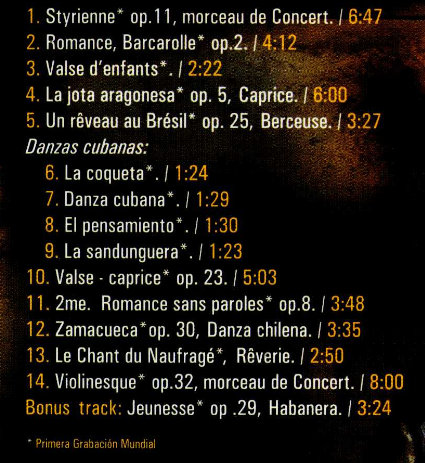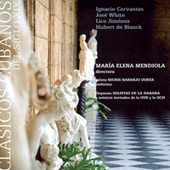 Clasicos Cubanos del Siglo XIX
Orquesta Solistas de La Habana
y músicos invitados de la OSN y la OCH
directora Maria Elena Mendiola
solista Niuris Naranjo Dorta, violinista
ColibriCD-117

[Cuban Classics of the 19th Century
Soloists Orchestra of Havana
and Guest Musicians of the NSO and OCH
Maria Elena Mendiola, Director
Niuris Naranjo Dorta, Violin Soloist
Colibri CD-117]
1- Scherzo caprichoso 4:50
Ignacio Cervantes
2- A la memoria de Antonio Maceo 7:00
Canto fúnebre
Hubert de Blanck
Concierto en fa sostenido menor 22:10
para violin y orquesta
[Violin Concerto in F-sharp Minor]
José White
solista Niuris Naranjo Dorta
3- Allegro 12:12
4- Adagio ma non troppo 4:50
5- Allegro moderato 5:00
6- Estudio sinfonico 7:00
José Manuel "Lico" Jiménez
1 Birth
José Silvestre White, aka José Silvestre White y Lafitte, was an Afro-Cuban composer, violinist and professor. His mother was Afro-Cuban and his father Spanish. Josephine Wright, Professor of Music at the College of Wooster, in Wooster, Ohio has published an article Violinist José White in Paris, 1855-1875, in Black Music Research Journal, Vol. 10, No. 2, Fall 1990. She outlines White's early training in music:
According to Argote (1953, 83) the violinist was born José Silvestre White y Lafitte in Matanzas, Cuba, on December 31, 1835. Exhibiting considerable musical talent as a child, he was given his earliest musical training by his father, Don Carlos White, who was an amateur violinist. Violin lessons continued in Cuba during his adolescent years with José Miguel Roman and Pedro Lecerff(Stevenson 1975, 2), and the young violinist gave his first public concert iin Matanzas on March 21, 1854. On that occasion he performed a fantasy on themes from Rossini's William Tell by Osborne and Bériot and two pieces of his own composition, variations on themes from The Carnival of Venice and Melodia sobre aires cubanas (Ramirez 1891, 176; Stevenson 1975, 2). His accompanist was the famous North American pianist-composer Louis Moreau Gottschalk (1829-1869), who encouraged him to pursue further violin studies in Paris and raised money for him to travel there (Stevenson 1975, 2)
2 Paris Conservatory
Professor Wright tells us José White first lived in Paris during his days as a student at the Paris Conservatory:
White's earliest association with the city of Paris dates from about 1855, when he was admitted to the Paris Conservatory as a student, following an audition with sixty rival candidates and the unanimous recommendation of his faculty jurors (Trotter [1878] 1986, 225). At the conservatory he studied violin with Jean-Delphin Alard, the pre-eminent master of the French school of violin playing; harmony, and presumably composition, with composer Henri Reber (1807-1880); and counterpoint and fugue with Ferdinand Taite (Argote 1953, 88). He was exposed as well to the considerable richness of concert music, virtuoso performers, and influential composer-musicians that this teeming metropolis had to offer a talented young music student in the 1850s.
3 First Grand Prize
The article tells of José White's success at the Paris Conservatory, as evidenced by his First Grand Prize in Violin:
Thriving in such an enriching, stimulating
environment, José White excelled. After just one year of study, he won the Paris
Conservatory's highest award in violin, the coveted First Grand Prize. That competition took place on July 29, 1856, and was reviewed by Le Pays on August 5:

"The competition for violin [at the Conservatory] has offered a beautiful spectacle this year, being the most brilliant struggle. The first grand prize was conceded to Mr. White, pupil of Alard, and the second [prize] to Mr. [Aimé] Gros, from the same class... Mr. White showed himself [so] superior that there should have been created a grand exceptional prize in his favor. He performed with an extraordinary animation, not like a pupil but as a great artist who commands his audience. The jury itself was electrified" (Ramirez 1891, 178).
4 Professional Ties
Josephine Wright describes the valuable professional ties José White established with musicians in Paris while he studied at the Paris Conservatory:
Although many other details about White's years at the conservatory are fragmentary, there exists evidence that he developed strong ties with members of the musical community in Paris and cultivated friendships that would later serve him well during the 1860s and 1870s when he began to concertize professionally. We know, for example, of his introduction to the musical circle of Félicien David and his friends through a letter written to the violinist by Giacchino Rossini (J.M.G.Z.1874, 4).

To Mr. White
Sir:
Allow me to express to you all the pleasure that I felt Sunday last at the home of my friend Mr. David. Your warm execution, feeling, elegance, the brilliance of the school to which you belong, are qualities in an artist like you of which the French school can be proud.
May it be, Sir, [that] with my sympathetic wishes I bring you good fortune by finding in good health the one for whom you fear today. Accept my blessings. I wish you a happy journey and a safe return.
Giacchino Rossini
Paris, November 28, 1858
5 Illness of Father
The author explains Rossini's references to illness and travel in a footnote to the article:
The crisis to which Rossini's letter alludes
pertained to a serious illness of the young violinist's father, which necessitated his immediate departure from Paris for Cuba. White apparently remained in Cuba through March 1860 and gave concerts throughout the island during this period. He returned to Paris shortly thereafter and resumed his studies at the conservatory (Argote 1953, 93-94; Stevenson 1975, 2).
6 Concerts in 1861
Prof. Wright writes that four concerts in Paris in 1861 brought José White to the attention of the public:
Also during his conservatory years, White participated in four public performances in 1861 that attracted considerable attention from the Parisian press and seemed to mark a turning point in his career; (1) his full-length recital with orchestra at the conservatory during April of that year (J.M.G.Z. 1874, 9); (2) his concert with orchestra at Salle Herz on April 11 (Le Ménestrel April 7, 1861); (3) his collaboration on the concert of pianist A.
Mansour at Salle Pleyel on April 15 (LeMénestrel April 7, 1861); and (4) his performance of a new quintet by C. Estienne on a matinee concert organized during December by pianist Casimir Ney, who would later perform chamber music professionally with White during the late 1860s and early 1870s (Le Ménestrel December 29, 1861).
7 Six Etudes
CedilleRecords.org says of the CD Capricho Latino, Cedille CDR 90000 124 (*2011):
Violinist Rachel Barton Pine, Cedille Records' all-time best-selling artist, has created another rare - perhaps unique - contribution to the world's CD catalog: an album of Spanish and Latin American music written solely for unaccompanied violin.
Rachel Barton Pine writes in the liner notes of Capricho Latino:
Each of White's Six Etudes (1868) is dedicated to a famous violinist: his teacher Alard, Ernesto Camillo Sivori, Henri Vieuxtemps, Henryk Wieniawski, Hubert Leonard, and one Secundino Arango, whose identity has intrigued European and American scholars. Arango, Afro-Cuban, born in Havana at the end of the 18th century and deceased in the same city in the late 1840's, was a violinist, cellist, organist, and composer of both religious music and popular danzones. He was also White's first violin teacher. Fittingly, White's Etude No. 6 is a danzón with a pyrotechnic central section much in the virtuoso Parisian style of the time."
8 Tour of the Americas
José White made a performance tour of the Americas from 1875-1877. Josephine Wright lists the places at which he played, during the tour, in the United States:
White appeared twice as guest soloist with the New York Philharmonic under Theodore Thomas during the 1875-1876 season and gave additional concerts in the greater New York area. He also gave concerts in Boston, Washington, and Philadelphia (Argote 1953, 96).
9 Final Years
Prof. Wright tells us José White served as director of the Imperial Conservatory in Rio de Janeiro, Brazil from 1877 to 1889, when she reports he returned to live in Paris until his death:
He returned to Paris during the winter of 1889 and resided there until his death in 1918...
10 Surviving Works
Gordon Root gives an overview of White's surviving sheet music in Africana Encyclopedia:
Many of his works still survive today, including a concerto, a string quartet, a collection of studies for violin, and several nationalistic pieces such as Marcha cubana, and perhaps his most famous composition, the habanera (a Cuban dance in slow duple time) La Bella
cubana.
11 Catalogue
A full catalogue of José White's surviving compositions has been compiled by Dominique-René de Lerma, Professor of Music at Lawrence University. It is found in the same issue of Black Music Research Journal as Prof. Wright's article. The catalogue of editions, performances, recordings and collections includes these titles, among others:
La Bella cubane: The bay of Naples (violin and piano). Paris: Ch. Hayet, 1910. 7pp. Recorded: Columbia CL-773.

Concerto for violin and orchestra in F-sharp minor. 1864. Bibliothèque Nationale.

Concerto for violin and orchestra in F-sharp minor. Edited by Paul Glass and Kermit Moore. Premiere: February 24, 1974; Avery Fisher Hall, New York; Ruggero Ricci, violin; Symphony of the New World; Kermit Moore, conductor. Recorded: Columbia M-33432 (Aaron Rosand, violin; London Symphony Orchestra; Paul Freeman, conductor). Library: Library of Congress.

Hélas: Valse lente. Paris: Durdilly, 1907. Library: Bibliothèque Nationale.

Marcha cubana (piano). 1909. Dedication: Ignacio Cervantes.

Six grandes études, op. 13 (violin, unaccompanied). Paris: Schonenberger, 1869. Library: Bibliothèque Nationale.
12 Recordings
One recording of the music of José White is Violin Concertos By Black Composers of the 18th and 19th Centuries, Cedille 90000 035 (1997), which includes his Violin Concerto in F-sharp Minor (21:34) performed by Rachel Barton, violin and the Encore Chamber Orchestra led by Daniel Hege, Conductor.

Another CD is Cancion Sin Palabras, MSR 1054 (2002). José White is represented by La Bella Cubana, performed on piano by Martha Marchena. A third is Capricho Latino, Cedille CDR 90000 124 (2011), the recording by violinist Rachel Barton Pine which is discussed above,
13 Website
The IberoAmerica Ensemble is made up of five classically trained musicians who perform classical and popular works with Hispanic and Latin American origins. The members are Ana Ruth Bermudez, cello; Danielle Pardo, viola;
Rene Izquierdo, guitar; JoAnn Haasler, violin; and Karl Orvik, violin. The ensemble's Website features audio and video versions of La Bella Cubana:
http://www.iberoamericamusic.com/repertoire/bella-cubana-jose-white.html


This page was last updated on March 5, 2022