Home
Blog
Composers
Musicians
Black History
Audio
About Us
Links
Musicians:
Blanke, John
Bridgetower, George A. P.
Chapman Nyaho, William H.
DePreist, James
Dworkin, Aaron Paul
Freeman, Paul
Johnson, Francis
Machado, Celso
Ngwenyama, Nokuthula
Wiggins, Thomas "Blind Tom"
Yifrashewa, Girma

AfriClassical Blog
Companion to AfriClassical.com

Guest Book
William J. Zick, Webmaster, wzick@ameritech.net

© Copyright 2006-2022
William J. Zick
All rights reserved for all content of AfriClassical.com



Girma Yifrashewa
Ethiopian Pianist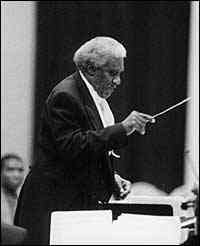 Coleridge-Taylor Perkinson Conducting the New Black Music Repertory Ensemble
Photo courtesy of the Center for Black Music Research, Columbia College, Chicago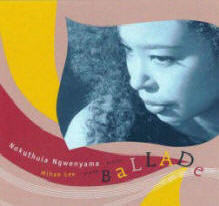 Ballade
Samuel Coleridge-Taylor
Ballade in C Minor, Op. 73
Nokothula Ngwenyama, viola
(above)
Mihae Lee, piano
EDI Records 9259 (2005)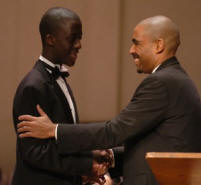 Trevor Ochieng, 2004 1st place
Jr. Division Laureate of the Sphinx Competition with Aaron P. Dworkin, Founder & President of The Sphinx Organization
Homepage -> Musicians

Français
Musicians of African Descent
AfriClassical Blog is a new companion to AfriClassical.com Visit often to learn of current issues involving Black composers and musicians. For a free subscription, leave your E-mail address in the Subscription box in the right column of the blog's home page.
The musicians at AfriClassical.com are a very small sample of the many accomplished Black classical conductors and instrumentalists of the past and present. James DePreist and Paul Freeman are the conductors; the other nine are performers. Conductors who are also composers are found in the Composers pages. A complete list of the Musicians pages can be found in the left column. The site does not sell CDs, but catalog numbers are provided to make them easy to find at music stores or at Web sites such as www.Amazon.com or www.ArkivMusic.com Summaries of selected profiles are followed by an outline which includes composers who are also conductors or performers. A good source of information on singers of African descent, as well as vocal works of Black composers, is The African-American Art Song Alliance. It was founded in 1997 by Dr. Darryl Taylor, a countertenor and opera singer who is Associate Professor of Music at the University of California, Irvine: http://www.darryltaylor.com/alliance/ In response to requests posted in the Guest Book of AfriClassical.com, Dominique-René de Lerma, Professor of Music at Lawrence University in Appleton, Wisconsin, is compiling a concise database of instrumentalists and conductors of African descent. He may be reached at: ddelerma@afgconsulting.org
Violinist Accompanied by Beethoven
Ludwig van Beethoven wrote his Bridgetower Sonata for Violin and Piano as a vehicle for displaying George Augustus Polgreen Bridgetower's extraordinary talent as a violinist. An argument prior to publication led Beethoven to rename it the Kreutzer Sonata.
Pianist Continually Enslaved
Geneva Handy Southall's biography of Thomas "Blind Tom" Wiggins (1849-1908) is subtitled Continually Enslaved, because owners and guardians kept control of Wiggins and took nearly all his earnings for his entire life.
Pianist First Saw A Piano at Age 16
Girma Yifrashewa first saw a piano at age 16, yet he earned two degrees in piano, and in 2002 became the first Ethiopian classical pianist to tour widely in Africa, visiting 11 countries. He composed all six works on his 2006 classical CD, Elilta.

Musicians of African Descent
A African
1 Akpabot, Samuel Ekpe - Nigeria, Organist
2 Moerane, Michael M. - South Africa, Pianist
3 Sowande, Fela - Nigeria, Organist
4 Yifrashewa, Girma - Ethiopia, Pianist
B African American
1 Chapman Nyaho, William H. - U.S., Pianist
2 DePreist, James - U.S., Conductor
3 Dworkin, Aaron Paul - U.S., Violin
4 Freeman, Paul - U.S., Conductor
5 Johnson, Francis "Frank" - U.S., Bugler
6 Machado, Celso - Brazil, Guitarist
7 Ngwenyama, Nokuthula - U.S., Viola & Violin
8 Still, William Grant - U.S., Oboe
C Afro-European
1 Blanke, John - U.K., Trumpet
2 Bridgetower, George A. P. - Poland, Violin
3 Coleridge-Taylor, Samuel - U.K., Conductor
4 Lambert, Lucien-Leon Guillaume - France, Piano

Conductors of African Descent
A African American
1 Dede, Edmond - U.S.
2 DePreist, James - U.S.
3 Freeman, Paul - U.S.
4 Leon, Tania - Cuba
5 Perkinson, Coleridge-Taylor - U.S.
6 Saint-Georges, Le Chevalier de - Guadeloupe
7 Still, William Grant - U.S.
8 Williams, Julius Penson - U.S.
B Afro-European
Coleridge-Taylor, Samuel

Instrumentalists of African Descent
A Bugler
Johnson, Francis "Frank" - U.S.
B Guitarists
1 Brouwer, Leo - Cuba
2 Holland, Justin - U.S.
C Oboist
Still, William Grant - U.S.
D Organists
1 Akpabot, Samuel - Nigeria
2 Nunes Garcia, José Mauricio - Brazil
3 Price, Florence Beatrice - U.S.
4 Sowande, Fela - Nigeria
E Pianists
1 Alberga, Eleanor - Jamaica
2 Bonds, Margaret Allison - U.S.
3 Chapman Nyaho, William H. - U.S.
4 Cunningham, Arthur - U.S.
5 Dett, R. Nathaniel - Canada
6 Elie, Justin - Haiti
7 Ellington, Edward Kennedy "Duke" - U.S.
8 Jeanty, Occide - Haiti
9 Johnson, James Price - U.S.
10 Joplin, Scott - U.S.
11 Lambert, Charles Lucien, Sr.
12 Lambert, Lucien-Leon Guillaume - France
13 Lamothe, Ludovic - Haiti
14 Moerane, Michael Mosoeu - South Africa
15 Pradel, Alain Pierre - Guadeloupe
16 Smith, Hale - U.S.
17 Verret, Solon - Haiti
18 Walker, George Theophilus - U.S.
19 Wiggins, Thomas "Blind Tom" - U.S.
20 Yifrashewa, Girma - Ethiopia
F Violinist
1 Bridgetower, George Augustus P. - Poland
2 Dede, Edmond - U.S.
3 Dworkin, Aaron Paul - U.S.
4 Saint-Georges, Le Chevalier de - Guadeloupe
5 White, José Silvestre - Cuba
G Violist
Ngwenyama, Nokuthula - U.S.


Birthplaces of Musicians of African Descent
A Brazil
Machado, Celso - Ribeiro Preto
B Ethiopia
Yifrashewa, Girma - Addis Ababa
C Poland
Bridgetower, George Augustus Polgreen - Biala
D United Kingdom
Blanke, John
E United States
1 Chapman Nyaho, William H. - Wash., D. C.
2 DePreist, James - Philadelphia, Pennsylvania
3 Dworkin, Aaron Paul - New York, New York
4 Freeman, Paul - Richmond, Virginia
5 Johnson, Francis "Frank" - Philadelphia, Pa?
6 Ngwenyama, Nokuthula - California
7 Wiggins, Thomas - Harris County, Georgia



This page was last updated on March 5, 2022