Home
Blog
Composers
Musicians
Black History
Audio
About Us
Links
Composers:
Adams, H. Leslie
Akpabot, Samuel Ekpe
Alberga, Eleanor
Bonds, Margaret Allison
Brouwer, Leo
Burleigh, Henry Thacker
Coleridge-Taylor, Samuel
Cunningham, Arthur
Dawson, William Levi
Dede, Edmund
Dett, R. Nathaniel
Elie, Justin
Ellington, Edward K. "Duke"
Euba, Akin
Garcia, José Mauricio Nunes
Hailstork, Adolphus C.
Holland, Justin
Jeanty, Occide
Johnson, James Price
Joplin, Scott
Kay, Ulysses Simpson
Khumalo, Mzilikazi
Lambert, Charles Lucien, Sr.
Lambert, Lucien-Leon G., Jr.
Lamothe, Ludovic
Leon, Tania
Moerane, Michael Mosoeu
Perkinson, Coleridge-Taylor
Pradel, Alain Pierre
Price, Florence Beatrice Smith
Racine, Julio
Roldan, Amadeo
Saint-Georges, Le Chevalier de
Sancho, Ignatius
Smith, Hale
Smith, Irene Britton
Sowande, Fela
Still, William Grant
Walker, George Theophilus
White, José Silvestre
Williams. Julius Penson
AfriClassical Blog
Companion to AfriClassical.com


Guest Book
William J. Zick, Webmaster, wzick@ameritech.net
© Copyright 2006 - 2022
William J. Zick
All rights reserved for all content of AfriClassical.com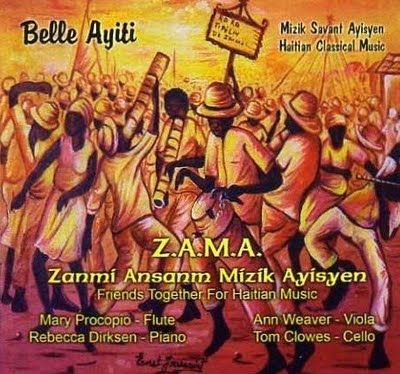 Belle Ayiti - Mizik Savant Ayisyen
Tangente au Yanvalou
Sonate Vodou Jazz
Haitian Folk Songs
Zanmi Ansanm Mizik Ayisyen (Friends Together For Haitian Music) (75:29) (2007)
[The price is $20.00 plus $5.00 S&H. To order, send an email to: mary.procopio@mcc.edu or visit the website of EducaVision, which is selling the CD online for $20: http://educavision.com/catalog.php?c=28]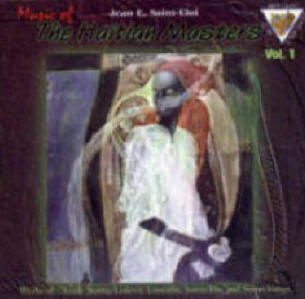 The Haitian Masters
Solon Verret
Meringue Haitienne, Nostalgie (6:00)
Valse, Rose printaniere (4:34)
IFA Music Records 256 (1999)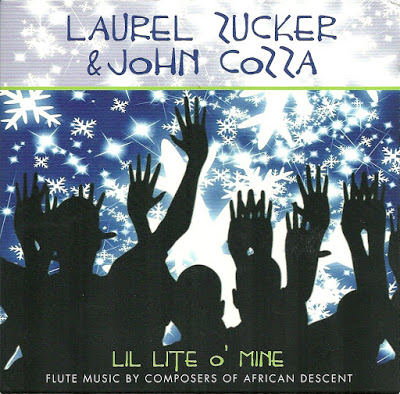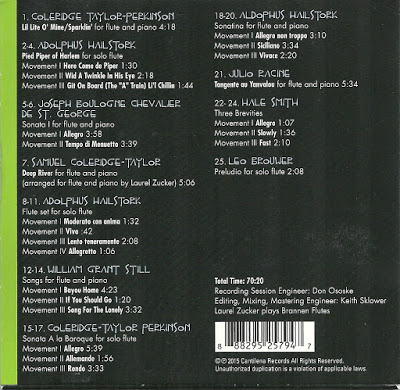 Home -> Composers -> Racine, Julio

Français

Audio Samples:
1 Karine Margron, vocalist Minis Azaka
2 Ricot Mazarin, vocalist 3 feuilles 3 Racine Oh
3 Karine Margron, vocalist Agnus Dei
4 Karine Margron, vocalist Nap Travese

1 Birth
Julio Racine is a Haitian composer, arranger and flutist who was born in Port-au-Prince, Haiti on February 4, 1945. He now lives in Louisville, Kentucky, and was interviewed for this page by William J. Zick, Nov. 17 and 24, 2009. His father was Cesar Racine and his mother was Lea Delva Racine.

2 Father
Julio was asked about his father Cesar Racine's occupation:
He was a lawyer, he had the functions of a judge in Belledere, which is a town on the border of the Dominican Republic. That's in the Plateau Centrale in Haiti. He was mainly in Belledere and we were in Port-au-Prince to go to school. Whenever there was a vacation, my sisters and brother and I would join him in Belledere. He would come and get us
Cesar Racine also had a farm on which he raised a variety of crops and animals.

3 Mother
Julio Racine says of his mother:

She learned to paint when she was in school and so she left some beautiful paintings! Yes, she was very talented, but not famous.
We asked Julio where his mother taught:
In Port-au-Prince and in the countryside. At that time she was working for the Board of Education and she would go wherever they sent her, for one or two years.
4 Family
Julio had a brother and two sisters, and was only two years old when his mother died in 1947. We asked if anyone had helped his father raise the four children. Julio replied:
My grandmother and my uncles. The way the culture is in Haiti, when you have a tragedy like this, the whole family gathers and they share responsibilities. The main person was my grandmother, my mother's mother. My uncles shared different roles as they raised us.
5 Flute Lessons
When Julio was 12 years old he began taking flute lessons at home from the Rev. Ulrick Delva, an uncle who was a Roman Catholic priest. Rev. Delva was an accomplished flutist, and was also the organist at the Roman Catholic Cathédrale de Port-au-Prince.

6 Conservatory
Racine was 15 when he entered the Conservatoire National, where he studied flute with Despestre Salnave, an excellent flutist from Montpellier, France. At the conservatory, he also studied piano and harmony with Professor Solon Verret, also a Haitian composer.
7 Solon Verret
Among Solon Verret's compositions are Meringue Haitienne, Nostalgie (6:00) and Valse, Rose printaniere (4:34). They can be found on Music of the Haitian Masters, IFA Music Records 256 (1999). The works were composed for piano but are performed by Jean E. Saint-Eloi on Midi guitar. The liner notes are by the guitarist, and begin with an overview of Haitian classical music. Music of the Haitian Masters is available at CDBaby.com.
8 Scholarship
In 1970, Julio Racine was the scholarship recipient at the University of Louisville, Kentucky, School of Music. There he studied flute with Prof. Francis Fuge and composition with Dr. Nelson Keyes. He graduated in 1974 and returned to Haiti.

9 Faculty
Julio was immediately given a faculty appointment as Professor of Flute and Conductor of the Holy Trinity Philharmonic Orchestra (Orchestre Philharmonique Sainte Trinité). He has given numerous flute and chamber music recitals in Haiti. In 1984 he conducted the Holy Trinity Orchestra on a tour of several U.S. cities.
10 Summer Camp
From 1975 through the year 1986 Julio Racine had a key role in organizing the Summer Music Camp for young musicians in Haiti, the "École de Musique Saint Trinité." In 1979 Julio attended a conducting symposium with Leonard Bernstein at Tanglewood, Massachusetts and took flute lessons with Doriot Dwyer of the Boston Symphony. He retired from the faculty of Holy Trinity School in 2001, and relocated to the U.S.
11 Compositions
Racine's works are essentially Haitian-inspired, and have been performed and well-received in Haiti. His compositions include the following:

Tangente au Yanvalou for flute and piano

Sonate Vodou Jazz for Flute & Piano

2 String quartets

Essais for piano

Entr'act for Brass quintet

Fanfare for brass quintet

Regards, suite in 4 mvts for full orchestra

Agnus Dei for choir

Sonate a Cynthia for Cello & piano

Sonate a Christine for Flute & piano

Missa Brevis for Choir & String orchestra

Suite No. 2 for Full orchestra

Honneur a John Hoover for Brass Quintet

Haitian Sketches for Full orchestra
12 Arrangements
Much of Julio Racine's time is spent orchestrating and arranging Haitian folksongs, such as these:

Diane de Dominique Jn. Baptiste (Arranged for Brass)

Trois feuilles, Trois racines Oh! (For String orchestra)

Erzulie Oh! (Voice & Piano)

Danza #4 de Ludovic Lamothe (Arranged for Violin & Piano)

Dodo Titit (Voice & Piano

Mèsi bon Dié

Belle Haiti (Voice & Piano)

Erzulie malade (Arranged for Voice & Piano)

Idille paysanne by M.L. Denis (Arranged for Full Orchestra)

Suite Haitienne by F. Casseus (Arr. for Cello & Piano by J. Racine)

Voice and Strings for Piano

Legba Zanglian

Milocan

Congo (F. Casseus)

Ma priere (A. Derose)

Il n'y a que toi ( A. Derose)

Chante l'oiseau (A. Derose)
13 Z.A.M.A
Z.A.M.A. is an abbreviation for Zanmi Ansanm Mizik Ayisyen (Friends Together For Haitian Music). The group's members are Mary Procopio, flute; Rebecca Dirksen, piano; Ann Weaver, viola; and Tom Clowes, cello. The four musicians became acquainted at the Summer Music Camp in Haiti. The group raises funds for scholarships at institutions of music and culture throughout Haiti.

14 Belle Ayiti
Belle Ayiti - Mizik Savant Ayisyen (Beautiful Haiti - Haitian Classical Music) (75:29) is a 2007 release by Z.A.M.A. It sells for $20.00, plus $5.00 shipping and handling, when ordered by email from Mary Procopio, mary.procopio@mcc.edu. It is also available for $20 plus 10% shipping at the website of Educa VisionThe liner notes discuss the CD's works of Julio Racine, Tangente au Yanvalou; Sonate Vodou Jazz; and Haitian Folk Songs:

Like Jaegerhuber, Racine identifies with the importance of Haiti's traditional music; he incorporates elements taken from the Vodou ceremony into his music, arranges Haitian folk songs in an art music style and promotes Haitian music to an international audience. Racine's Tangente au Yanvalou utilizes traditional rhythmic elements derived from the ceremonial music of Haitian Vodou. His Sonate Vodou Jazz utilizes melodies associated with Ezili and Dambala and rhythms taken from kongo, petwo, and yanvalou, among others. Additionally, Racine departs from the traditional approach by utilizing chromaticism and incorporating elements of jazz into his classical music compositions.

15 Chansons D'Haiti
Julio Racine has done numerous arrangements and orchestrations of Haitian folk songs. They are available at the following web address:
http://www.chansonsdhaiti.com/index.html

This page was last updated on March 5, 2022