Home
Blog
Composers
Musicians
Black History
Audio
About Us
Links
Composers:
Adams, H. Leslie
Akpabot, Samuel Ekpe
Alberga, Eleanor
Bonds, Margaret Allison
Brouwer, Leo
Burleigh, Henry Thacker
Coleridge-Taylor, Samuel
Cunningham, Arthur
Dawson, William Levi
Dede, Edmund
Dett, R. Nathaniel
Elie, Justin
Ellington, Edward K. "Duke"
Euba, Akin
Garcia, José Mauricio Nunes
Hailstork, Adolphus C.
Holland, Justin
Jeanty, Occide
Johnson, James Price
Joplin, Scott
Kay, Ulysses Simpson
Khumalo, Mzilikazi
Lambert, Charles Lucien, Sr.
Lambert, Lucien-Leon G., Jr.
Lamothe, Ludovic
Leon, Tania
Moerane, Michael Mosoeu
Perkinson, Coleridge-Taylor
Pradel, Alain Pierre
Price, Florence Beatrice Smith
Racine, Julio
Roldan, Amadeo
Saint-Georges, Le Chevalier de
Sancho, Ignatius
Smith, Hale
Smith, Irene Britton
Sowande, Fela
Still, William Grant
Walker, George Theophilus
White, José Silvestre
Williams. Julius Penson
AfriClassical Blog
Companion to AfriClassical.com


Guest Book
William J. Zick, Webmaster, wzick@ameritech.net
© Copyright 2006-2022
William J. Zick
All rights reserved for all content of AfriClassical.com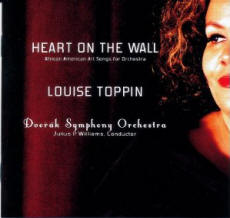 Heart On The Wall: African American Art Songs For Orchestra; Louise Toppin, Soprano; Dvořák Symphony Orchestra; Julius P. Williams, Conductor; Albany Troy 1314 (2011)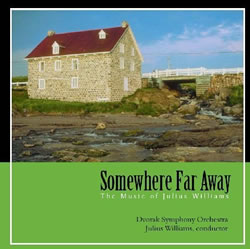 Somewhere Far Away
Dvorak Symphony Orchestra Winston Salem State University Choir;
Julius P. Williams, conductor; Troy 1072 (2008)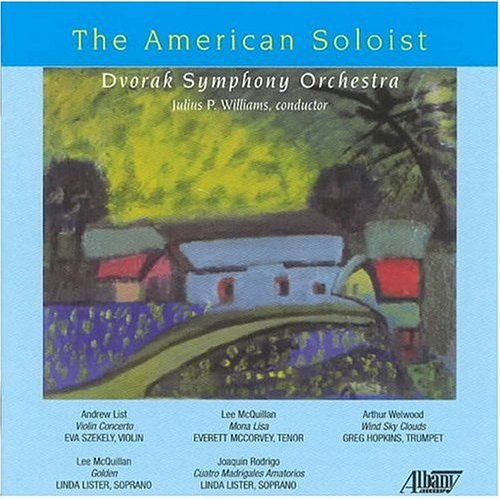 The American Soloist
Dvorak Symphony Orchestra
Julius P. Williams, conductor
Troy 687 (2004)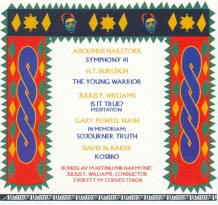 Symphonic Brotherhood
Is It True? (3:36)
Meditation from the Easter Celebration (5:54)
Bohuslav Martinu Philharmonic
Julius P. Williams, Conductor
Troy 104 (1993)
Home -> Composers -> Williams, Julius Penson

Français

Audio Samples: Albany Records Troy 104 (1993); Symphonic Brotherhood: The Music of African-American Composers; Everett McCorvey, tenor Bohuslav Martinu Philharmonic; Julius Williams, conductor
a Is It True?
b Meditation from the Easter Celebration

1 Student & Professor
Julius Penson Williams is an African American composer, conductor, educator, recording artist, author and artistic director. His career is detailed at his personal website, http://www.juliuspwilliams.com Julius was born in the Bronx, New York City, in 1954. He earned a B.S. degree at Herman H. Lehman College of the City University of New York, and an M.M.E. degree at the Hartt School of Music. Williams has held faculty posts at several colleges and universities and is now Professor of Composition and Conducting at Berklee College of Music in Boston. He is also a co-director of the Videmus Recording Company.

2 Conductor
Dominique-René de Lerma, Professor of Music at Lawrence University in Appleton, Wisconsin, has generously made his research entry on Julius Penson Williams available to this website. Here is an excerpt on the conducting career of Williams:
His conducting debut was in Carnegie Hall, at the 1989 initial concert of the Symphony Saint Paulia. He has served as assistant conductor under Lukas Foss of the Brooklyn Philharmonic and American Symphony Orchestra. Artistic director of Spain's Costa del Sol Festival. Conductor and composer of Connecticut Arts Awards on PBS and the Nutmeg Ballet Company. Artistic Director of the New York State Summer School of the Arts choral section and President at the University of Vermont. Guest at the
Dubrovnik Symphony Orchestra in Yugoslavia. On faculty at Berklee.
3 American Orchestras
The website of Maestro Williams adds:
He has conducted American orchestras in Dallas, New Haven, Savannah, Hartford, Sacramento, Tulsa, Knoxville, Oklahoma, The Vermont Symphony, The Norwalk Symphony, The Vermont Philharmonic, and Paducah Symphony in Kentucky, The Akron Symphony Orchestra, The Wooster Symphony of Ohio, the Armor Artist Chamber Orchestra, the Connecticut Opera Association and the Washington Symphony Orchestra of Washington, DC. The Tri-C Jazz Festival of Cleveland was opened by Maestro Williams in 1999 with a powerful performance of Duke Ellington's "Sacred Service".
4 European Orchestras
Williams has conducted and recorded extensively in Europe, as he relates at his website:
In Europe, Maestro Williams has performed and recorded with The Prague Radio Symphony, The Dvorak Symphony Orchestra, The Volvodanksa Symphony of Serbia, The Dubrovnik Symphony of Croatia, The Brno State Philharmonic, The Bohuslav-Martinu Philharmonic Orchestra, and The Music Festival of Costa del Sol, Spain.
5 Compositions
The composer's personal website states:
A prolific composer, Maestro Williams has created dozens of works for virtually every genre of contemporary classical performance, including opera, ballet, orchestra, chamber ensemble, chorus and solo voice, dance, musical theatre and film.
6 Symphonic Brotherhood
Williams conducted the Bohuslav Martinu Philharmonic's recording of his works Is It True? (3:36) and Meditation from the Easter Celebration (5:54) with tenor Everett McCorvey on Troy 104 (1993). The liner notes observe:
The Cantata Easter Celebration was written in early 1993, as part of Williams' residency at Shenandoah University and Conservatory (Winchester, Virginia). There he served as Visiting Associate Professor and Jesse Ball duPont Scholar (academic year 1992-93). The Cantata is scored for orchestra, chorus, gospel choir, tenor, and dancers, and was premiered at Shenandoah, April 11, 1993.
7 Shades of Blue
Shades of Blue: Symphonic Works of African American Composers, Troy 431 (2001) contains works of David Baker, H. Leslie Adams and Stephen Michael Newby. Julius Williams conducted the Prague Radio Symphony in performances of Baker's Shades of Blue and Adams' Ode to Life. Richard Taylor, baritone, and the Washington Symphony performed Newby's Gospel Songs for Baritone & String Orchestra under his direction.

8 The American Soloist
On The American Soloist, Troy 687 (2004), Maestro Williams conducted the Dvorak Symphony Orchestra in works of Andrew List, Lee McQuillan, Joaquin Rodrigo and Arthur Welwood. Eva Szekely was violin soloist for List's Violin Concerto. Soprano Linda Lister joined the ensemble for McQuillan's Golden and Rodrigo's Cuatro Madrigales Amatorios. Everett McCorvey was tenor for McQuillan's Mona Lisa. Greg Hopkins played trumpet on Welwood's Wind Sky Clouds, which AlbanyRecords.com describes as follows:
The piece is an example of "Third Stream," a phrase first coined by composer Gunther Schuller to describe the fusion of jazz and classical styles and where the crossover from one to another in the course of the piece is blurred and often imperceptible.
9 The New American Romanticism
Julius P. Williams conducts the Dvorak Symphony Orchestra on Troy 704 (2004). The works are Symphony for Chamber Ensemble of Leroy Southers; Romanza for Solo Violin and Orchestra of Lee McQuillan, with Peter Zdvihal, violin; Golden Fanfare of Beth Denisch; and Symphony No. 1 of Jack Jarrett.
10 Midnight Tolls
Midnight Tolls, Albany Records ALB 844 (2006) consists of four works performed by the Dvorak Symphony Orchestra and conducted by Julius P. Williams. The album's namesake and opening work, Midnight Tolls, was also composed by Julius Williams. Next is Seasons of Gold by Lee T. McQuillan, with Linda Lister, soprano. The third work is Mystic Valley Autumn by Armand Qualliotine. Martin Hybner plays vibraphone, and Dagmar Platilova plays harpsichord. The CD ends with Symphony No. 1 by Thomas Hojnacki. AlbanyRecords.com quotes from two reviews of the disc:
The programs that Williams has assembled has a remarkable fluidity...The Dvorak Symphony Orchestra plays nimbly and, when required, with power... (Fanfare)

...lovely, professional, and charmingly old-fashioned... (American Record Guide)
11 Somewhere Far Away
On the CD Somewhere Far Away, Troy 1072 (2008), all three works are performed by the Dvorak Symphony Orchestra and conducted by Julius Williams. Joe Westmoreland is composer of the work Somewhere Far Away. Other artists on the piece are Gabrielle Goodman, soprano; Armstead Christian, tenor; Dr. Roy L. Belfield, Jr., piano; and the Winston Salem State University Choir. Julius P. Williams is composer of Toccatina for String Orchestra and A Journey to Freedom Honor and Glory, An American Hero John Daniels. Performers of the final work are Louise Toppin, soprano; Desire Dubose, mezzo-soprano; Julius Williams, tenor; the Reston Chorale; Fred Wygal, narrator; and the Winston Salem State University Choir.
12 Publishers
The Berklee College of Music faculty page on Julius Williams says this about the publishers of his music:
Compositions published by MMB, Augsburg Fortress, Carl Fischer, Warner Brothers, and Lawson-Gould. Compositions performed by New York Philharmonic, Cleveland Orchestra, Dallas Symphony, and many orchestras nationally and internationally.
13 Performances
The composer's website lists several performances of his works, including these:
He has served as Composer-in-Residence of Connecticut's Nutmeg Ballet Company, which premiered his ballet, Cinderella. His Norman Overture was premiered by the New York Philharmonic, conducted by Zubin Mehta. The opera Guinevere was performed at the Aspen Music Festival and at Dubrovnik Music Festival in Croatia. He is composer of the score for the film What Color is Love?, the score for the play In Dahomey and the choral piece A Journey to Freedom for the Reston Choral and Festival Orchestra in Virginia. The moving tribute to the victims of September 11, In Memorium was premiered by the Detroit Symphony. Maestro Williams has served as conductor-composer of the Connecticut Arts Award for Public Television. His film score for Lifetime TV's Fighting for our Future won the Gracie Allen Documentary Award in 2003.
14 Public Profile
Julius P. Williams plays an active role in current affairs related to classical music composition and performance. On an international level, he was selected by the Shanghai Conservatory of Music as one of two Final Jurors in the 2009 Rivers Composition Competition. The other Final Juror was Prof. Alexander Koblyakov, Dean of the Moscow Conservatory in Russia. Another example is his role, along with Kenneth Harris, Sr., another African American composer and conductor, in organizing a concert at Alice Tully Hall in Lincoln Center for Oct. 21, 2009. The Longar Ebony Symphony Orchestra was joined by talented soloist of African descent for a program of Coleridge-Taylor Perkinson and Aaron Copland, among others.
15 Works
Prof. Dominique-René de Lerma

Cinderella, ballet. Première: Connecticut, Nutmeg Ballet Company; Julius P. Williams, conductor.
Easter celebration (1993). Duration: 5:54.
----- 2. Is it true? (1993). Duration: 3:36.
CD: Everett McCorvey, tenor; Bohuslav Martinu Symphony; Julius P. Williams, conductor. Albany TROY 104 (1993, Symphonic brotherhood).
---- 5. Meditation.
CD: Bohuslav Martinu Symphony; Julius P. Williams, conductor. Albany TROY 104 (1993, Symphonic brotherhood).
Guinevere, opera. Première: 1889 OR 1990?; Dubrovnik Festival; Dubrovnik Symphony Orchestra; Julius P. Williams, conductor.
In roads, for flute, oboe & violoncello (1987).
Norman overture. Première: New York Philharmonic; Zubin Mehta, conductor.
Sounds of colors, for organ.
Toccatina, for string orchestra. Commission: Camerata Youth Orchestra.

16 Bibliography
Prof. Dominique-René de Lerma

Banfield, William C. Landscapes in color; conversations with Black American composers. Landham MD: Scarecrow Press, 2003. xvi, 380p. ISBN 0-8108-3706-4.

Black perspective in music v18, p242, 245.

Carter, Madison H. An annotated catalogue of composers of African ancestry. New York: Vantage Press, 1986.

Con brio, v1n3.

Handy 1995.

Horne, Aaron. String music by Black American composers. Westport: Greenwood Press, 1991 (Music reference collection, no. 33). xx, 327p. Foreword by Dominique-René de Lerma. ISBN 0-313-27938-1.

Symphonium v2n2.
White, Evelyn Davidson. Choral music by Afro-American composers; A selected, annotated bibliography. 2nd ed. Metuchen: Scarecrow Press, 1996. viii, 126p. ISBN 0-8108-3037-X. First edition issued by Scarecrow in 1981.


This page was last updated on March 5, 2022