Home
Blog
Composers
Musicians
Black History
Audio
About Us
Links
Composers:
Adams, H. Leslie
Akpabot, Samuel Ekpe
Alberga, Eleanor
Bonds, Margaret Allison
Brouwer, Leo
Burleigh, Henry Thacker
Coleridge-Taylor, Samuel
Cunningham, Arthur
Dawson, William Levi
Dede, Edmond
Dett, R. Nathaniel
Elie, Justin
Ellington, Edward K. "Duke"
Euba, Akin
Garcia, José Mauricio Nunes
Hailstork, Adolphus C.
Holland, Justin
Jeanty, Occide
Johnson, James Price
Joplin, Scott
Kay, Ulysses Simpson
Khumalo, Mzilikazi
Lambert, Charles Lucien, Sr.
Lambert, Lucien-Leon G., Jr.
Lamothe, Ludovic
Leon, Tania
Moerane, Michael Mosoeu
Perkinson, Coleridge-Taylor
Pradel, Alain Pierre
Price, Florence Beatrice Smith
Racine, Julio
Roldan, Amadeo
Saint-Georges, Le Chevalier de
Sancho, Ignatius
Smith, Hale
Smith, Irene Britton
Sowande, Fela
Still, William Grant
Walker, George Theophilus
White, José Silvestre
Williams. Julius Penson
AfriClassical Blog
Companion to AfriClassical.com

Guest Book
William J. Zick, Webmaster, wzick@ameritech.net

© Copyright 2006 - 2011
William J. Zick
All rights reserved for all content of AfriClassical.com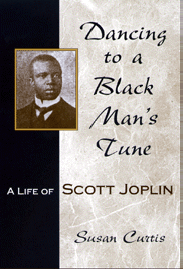 Dancing to a Black Man's Tune:
A Life of Scott Joplin
Susan Curtis
University of Missouri Press (2004)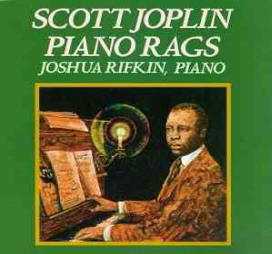 Scott Joplin Piano Rags
Joshua Rifkin, piano
Nonesuch 79159 (1990)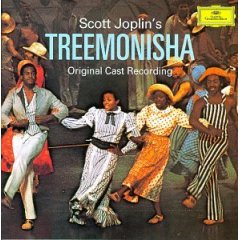 Scott Joplin's Treemonisha
Original Cast Recording
Polygram 435709 (1992)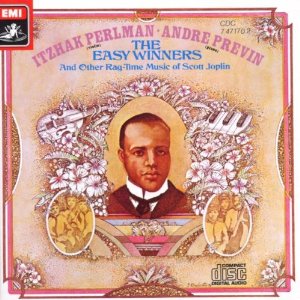 Joplin: Easy Winners
Itzhak Perlman & André Previn
EMI Classics 47170 (1990)
Home -> Composers -> Joplin, Scott
1 Youth
The specifics of Scott Joplin's date and place of birth are not entirely clear, but it is now thought that he was born in East Texas about 1867. An authoritative biography is Dancing to a Black Man's Tune: A Life of Scott Joplin, written by Susan Curtis and published in 2004 by the University of Missouri Press. Susan Curtis is Professor of History and American Studies at Purdue University.
His father was a former slave who worked as a laborer. His mother was born free in Kentucky. Both played musical instruments, and Scott and his five siblings were raised in a musical environment in which singing, fiddles and banjos were common. Africana Encyclopedia describes Scott's early musical training:
When the family moved to Texarkana, Arkansas, in the mid-1870s, the city environment benefited Joplin's musical development. His mother worked as a domestic servant, and her white employers allowed her son to play their piano. Joplin's father, who had come to Texarkana for the good wages of railroad work, bought his son a used piano as soon as he could afford one.
At the age of 11 the boy learned the basics of music theory from a local musician with classical training. Joplin left home while still a teenager, and it is thought that he then supported himself as an itinerant pianist working at bars and brothels in such places as St. Louis, Memphis and Dallas.

2 Midway Pianist
Africana Encyclopedia recounts that in 1893 Joplin was in Chicago during an exposition which was comparable to a World's Fair:
In 1893 Joplin emerged as a well-practiced musician at the World Columbian Exposition in Chicago, Illinois, where he probably played along the Midway Plaisance. Although white management excluded African Americans from the official program of concerts, black pianists entertained fairgoers along the exposition's bustling periphery.
Joplin attended performances of well-known pianists at the event, where he also met his friend and partner Otis Saunders. For the next two years they were part of a traveling quartet which performed pieces composed by Joplin.

3 Sedalia
Joplin and Saunders found a favorable environment for African American musicians in Sedalia, Missouri, where they took up residence in 1894. They concluded that a market existed for sheet music of Joplin's compositions. Africana Encyclopedia continues:
In Sedalia, Joplin married Belle Jones, wrote pieces for the Queen City Band, took a course in music composition at the George R. Smith College for Negroes, and, most importantly, began to peddle his music.
4 Maple Leaf Rag
At first Joplin encountered rejections, and was unable to make any substantial sales, but then he sold Maple Leaf Rag to a white businessman, John Stark. The piece was an instant success, and its first printing of 10,000 copies sold out quickly. More than half a million copies were sold by 1909. Stark and Joplin signed a contract and both moved to St. Louis, Missouri. There Stark promoted his client vigorously, giving him the nickname King of Ragtime. Subsequent hits included Peacherine Rag in 1901 and The Entertainer in 1902. Joplin attempted to establish himself as a composer of larger-scale works, with a folk ballet called The Ragtime Dance in 1902 and a 1903 opera A Guest of Honor, but neither work was performed widely.

5 Weeping Willow
Susan Curtis writes on page 94 that Scott Joplin's Weeping Willow was published in 1903. We read on Page 147 that it was among the songs of which Joplin cut piano rolls. W", eeping Willow: A Ragtime Two-Step (2:51) has been recorded by clarinetist Marcus Eley and pianist Lucerne DeSa in an arrangement by Eley on the CD But Not Forgotten: Music by African-American Composers for Clarinet & Piano; Sono Luminus DSL-92156 (2012). Marcus Eley writes in the liner notes:
The title, "Weeping Willow", gives one the impression of a swaying weeping willow tree in a calm breeze. In this arrangement, the clarinet and piano alternate equally between the playful syncopated melodies. Throughout this "Rag" the tempo is not hurried as Joplin instructs NOT FAST. The stately opening melody is majetic but no pompous. One can feel the inner pulse of each section. Like two well-suited partners, the clarinet and piano are mindful of each step through the dance.
6 Piano Rags
Some of Joplin's most famous ragtime pieces are performed by pianist Roy Eaton on the CD Piano Rags, Sony SBK 62 833 (1995). Eaton writes in the liner notes:
Joy - no other word better describes the feeling that the music of Scott Joplin evokes from the listener and the performer. This joy, however, is tinged with irony, for these pieces were composed by a man whose life was in many respects one of frustration and tragedy. An African American who sought both legitimacy and recognition for ragtime as an art form, Joplin was doubly cursed by his dream. As a black, he lived at a time when the legal system not only left so many people of color without civil liberty, but denigrated every aspect of their culture, too.
...
Joplin became a fixture in the ragtime craze with the publication of his Maple Leaf Rag in 1899, and his name became synonymous with ragtime. Still, he dreamed of the legitimization of his music as an art form, and even went so far as to compose three operas, the best known of which, Treemonisha, was ignored in his own lifetime. When Joplin died in 1917 from an advanced case of syphilis, both he and his ragtime had been forgotten in favor of another new rage, jazz. It would not be for another half-century, when Joplin's The Entertainer was used as the theme music for the film The Sting, that Joplin's extraordinary contribution to American musical life was finally acknowledged.
7 Death
New inventions such as phonographs and player pianos caused the market for sheet music to decline markedly by 1906. Personal tragedies also struck. Joplin's first child died when only a few months old, and his wife Belle Joplin also died a short time later. Joplin soon moved to New York City, where he published a study guide for ragtime pianists, School of Ragtime, in 1908. In the following year he produced Wall Street Rag and Paragon Rag. Africana Encyclopedia relates the final tragedy in Joplin's life:
In 1916 Joplin began to exhibit advanced signs of syphilis, and in 1917 he died in a psychiatric ward, diagnosed with dementia.
Upon his death on April 1, 1917, Joplin was survived by his second wife, Lottie Stokes Joplin. His creative output was large and noteworthy, but it was neglected for decades.

8 Treemonisha
In 1911 Joplin published the opera Treemonisha. The work was said to contain some of his best music. One theater agreed to produce it, but later reneged. Treemonisha was first staged in a concert performance in Atlanta, Georgia by the Afro-American Music Workshop of Morehouse College and the Atlanta Symphony under Robert Shaw, conductor. Dr. Dominique-René de Lerma recalls:
The Atlanta production ran for two consecutive nights to full (and mixed) houses in late January 1972. This was the original version via T.J. Anderson.
The choreographer and stage director was the famed African American dancer Katherine Dunham. Uzee Brown, Jr. made his operatic debut in the role of Parson Alltalk.

9 Review
On January 30, 1972 The New York Times published a review by Harold C. Schonberg:
In writing "Treemonisha" - the libretto was his own – Joplin clearly intended to author a social as well as musical document. He set up the forces of ignorance and superstition against liberalism and education represented by a young lady named Treemonisha." "Morehouse College, aided by a Rockefeller grant, gave "Treemonisha" an ambitious performance. Thomas J. Anderson, a visiting professor at the college, orchestrated the opera in a style that follows the one example of Joplin's orchestration that has come down to us.
The opera concludes with "A Real Slow Drag." Schonberg writes:
This slow drag is amazing. Harmonically enchanting, full of the tensions of an entire race, rhythmically catching, it refuses to leave the mind. Talk about soul music!
The opera's professional premiere is generally considered to have been the 1975 production of the Houston Grand Opera, for which Gunther Schuller produced the orchestration. The music can be heard on an original cast recording, Polygram 435709 (1992).

10 Overture
The Treemonisha Overture (9:37) has been recorded by the Italian pianist Marco Fumo on Dynamic CDS 351 (2000). The CD includes works for piano by four other composers, including Duke Ellington, James Price Johnson and William Grant Still. The author of the liner notes is Marcello Piras, a Black Music specialist:
The first piece is the Overture from the opera Treemonisha, which Scott Joplin completed in 1911. The composers's orchestration has been lost: the one used nowadays was written with fond commitment by Gunther Schuller. Joplin published the score for piano and voice at his own expense, where the Overture and the Prelude to Act III appear as perfectly idiomatic piano pieces. Following the traditional rules of operatic writing, in the Overture Joplin patches together the main themes of Treemonisha; each of them has a symbolic meaning and/or is associated with a character, an environment or an episode. Those who ignore the opera libretto can therefore miss out on the hidden meaning of the Overture: it foreshadows the fight between good and evil, between the light of reason and the darkness of superstition, which is at the core of the opera. It was a question that obsessed Joplin in the last years of his life.
11 The Entertainer
The revival of interest in the life and music of Scott Joplin began with a book by Rudi Blesh and Harriet Janis, They All Played Ragtime: The True Story of an American Music. It was published in 1950 by Alfred Knopf. It has since been revised twice and issued in paperback. Another milestone came in 1970 with the release of recordings of the composer's piano rags by the renowned pianist Joshua Rifkin. What made Joplin's ragtime music the rage again was the 1973 movie The Sting. The use of The Entertainer in the film score made the tune a hit on the pop music charts. Even Treemonisha won belated recognition, with three productions in the 1970s. In 1976 the Pulitzer Board announced:
A special award is bestowed posthumously on Scott Joplin, in this Bicentennial Year, for his contributions to American music.
12 Additional Recordings
Hundreds of additional recordings have made the music of Scott Joplin available on CD. The sound track of the film The Sting includes arrangements and compositions of Marvin Hamlisch on MCA 11836 (1998). Pianist Alexander Peskanov has recorded a disc entitled Scott Joplin Piano Rags, Naxos 8.559114. On Jean-Pierre Rampal Plays Joplin, Rampal and four accompanists interpret Joplin rags on flute, piccolo, whistle, harpsichord, drums and other instruments. The CD is CBS Masterworks 37818 (1990).
13 Resources

Mfiles.co.uk www.mfiles.co.uk/composers/scott-joplin.htm (MIDI) - Brief illustrated biography with links to downloadable sheet music and sound files.

ScottJoplin.org www.scottjoplin.org/biography.htm - Article by Edward Berlin for The Scott Joplin International Ragtime foundation.

The Rag-Time Collection http://www.kunstderfuge.com/ragtime.htm - The Kunst Der
Fuge / OnClassical Historical Piano Rolls Collection.

Trachtman.org http://www.trachtman.org/ragtime/index.htm (MIDI) - Ragtime Piano MIDI files by Warren Trachtman.

Wikipedia.org http://en.wikipedia.org/wiki/Scott_Joplin - Biography and extensive list of musical works. Excerpt: "In mid-January 1917 Joplin was hospitalized at Manhattan State Hospital in New York City, and friends recounted that he would have bursts of lucidity in which he would jot down lines of music hurriedly before relapsing."

This page was last updated on July 06, 2013