Home
Blog
Composers
Musicians
Black History
Audio
About Us
Links
Composers:
Adams, H. Leslie
Akpabot, Samuel Ekpe
Alberga, Eleanor
Bonds, Margaret Allison
Brouwer, Leo
Burleigh, Henry Thacker
Coleridge-Taylor, Samuel
Cunningham, Arthur
Dawson, William Levi
Dede, Edmund
Dett, R. Nathaniel
Elie, Justin
Ellington, Edward K. "Duke"
Euba, Akin
Garcia, José Mauricio Nunes
Hailstork, Adolphus C.
Holland, Justin
Jeanty, Occide
Johnson, James Price
Joplin, Scott
Kay, Ulysses Simpson
Khumalo, Mzilikazi
Lambert, Charles Lucien, Sr.
Lambert, Lucien-Leon G., Jr.
Lamothe, Ludovic
Leon, Tania
Moerane, Michael Mosoeu
Perkinson, Coleridge-Taylor
Pradel, Alain Pierre
Price, Florence Beatrice Smith
Racine, Julio
Roldan, Amadeo
Saint-Georges, Le Chevalier de
Sancho, Ignatius
Smith, Hale
Smith, Irene Britton
Sowande, Fela
Still, William Grant
Walker, George Theophilus
White, José Silvestre
Williams. Julius Penson

AfriClassical Blog
Companion to AfriClassical.com


Guest Book
William J. Zick, Webmaster, wzick@ameritech.net

© Copyright 2006 - 2022
William J. Zick
All rights reserved for all content of AfriClassical.com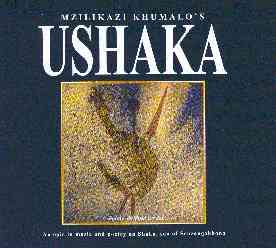 Ushaka KaSenzangakhona: An epic in music and poetry on Shaka, son of Senzangakhona
National Symphony Orchestra of SABC
Robert Maxym, Conductor
Mzilikazi Khumalo, Choral Director
Sony CDCSL 8047 (1997)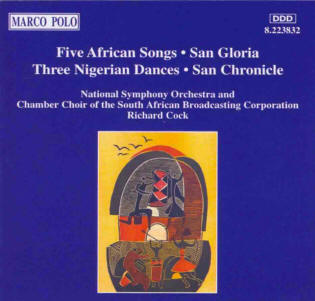 Five African Songs
National Symphony Orchestra and Chamber Choir of the South African Broadcasting System
Richard Cock, Conductor
Marco Polo 8.223832 (1995)
Home -> Composers -> Khumalo, James Stephen Mzilikazi
1 Birth
SAMRO, the Southern African Music Rights Organization, maintains a comprehensive biography which is the primary source for this page. It begins with the composer's birth in 1932 on a Salvation Army farm:
James Stephen Mzilikazi Khumalo was born on 20 June 1932 on the Salvation Army farm, KwaNgwelu (known as Mountain View in English), in the Vryheid district of Natal, South Africa, where his parents were being trained as Salvation Army ministers.
2 Mzilikazi
SundayWorld.co.za paid tribute to James Stephen Mzilikazi Khumalo on July 9, 2012, shortly after his 80th birthday, celebrated June 20, 2012. The article by Mzwandile Kabizokwakhe was entitled Up Close & Personal with James Stephen Mzilikazi Khumalo:
"It was only when I was older and I composed my first work of music that I started using Mzilikazi exclusively as my signature on my work."
3 Spirituality
The SundayWorld article of July 9, 2012 continues:
Born to deeply religious parents, Andreas and Johanna, Khumalo imbibed a spirituality he has transferred to all his musical compositions from his first work Ma Ngificwa Ukufa in 1958 to his current composition Hallelujah Mdumiseni Nonke - written in the rondo style.
4 Elementary School
The SAMRO bio relates that the family soon left for Durban, where the child entered elementary school:
Shortly after his birth, his parents were ordained in the ministry, and the family moved to Durban, and later to Hlabisa, where his schooling began. Here also began his life-long involvement with choral music - he became a member of the school's children's choir, and participated in singing at community events such as weddings. During this period, Khumalo developed a deep love for traditional music.
5 Euphonium
We learn next from the SAMRO bio of Khumalo's exposure to Western music, the euphonium and staff notation in his first senior school:
In the late thirties the family moved to Vryheid, where Khumalo became a member of the senior school choir and was introduced to Western vocal music. He also became a member of the church band, playing solo euphonium, and learned staff notation in addition to the tonic sol-fa with which he was already familiar by this time.
6 Soweto
The young student's education was interrupted for a year while he was away from his home area, the SAMRO bio says:
After spending a year in Vendaland, Khumalo continued his schooling at the Fred Clarke High School in Soweto, where again he was a member of the school choir, later occasionally taking rehearsals and training the soloists, as well as helping with the training of the junior school's choir.
7 Graduation
Khumalo graduated from high school in 1950, then worked for a year to earn money for college. A scholarship enabled him to enroll in a three-year program at a teacher's training college in Mamelodi, to become prepared for teaching high school. SAMRO explains his further education:
Then, he continued his studies, obtaining the BA degree with majors in English and Zulu in 1956 from the University of South Africa, and later went on to completing his MA and PhD degrees.
8 Composer
Khumalo began teaching at the Wallmansthal Secondary School, in the district of Pretoria, the bio relates, and began composing music. His first composition was Ma Ngificwa Ukufa. After its 1959 premiere, the piece was selected for the Teacher's Section of the first National Choral Festival of the African Teachers Association of South Africa (ATASA), which took place in 1961 in Bloemfontein. Khumalo also conducted many choirs at this festival, where his charges usually won the choral competitions, and for which he was engaged also to compose many choral works.

9 Music Theory
The bio makes clear that Khumalo pursued a wide range of music studies, including music theory, composition and singing, at various locations:
He studied music theory, harmony, counterpoint, form and composition under Charles Norburn of Pretoria and continued composing, setting many poems by B.W. Vilakazi. He also studied singing under Prof. Khabi Mngoma of the University of Zululand, and, later, under Zandi Casan of the University of the Witwatersrand.
10 African Languages
Khumalo began as a tutor in the Department of African Languages of the University of the Witwatersrand, Johannesburg in 1969. He advanced steadily to the positions of Professor of African Languages and Head of the Department.

11 Black Folk Music
The bio relates that Khumalo interrupted his career as a composer after 1980 to collect and arrange Black folk music:
After 1980 he rekindled his interest in traditional African music and stopped composing for a while in order to study the genre, concentrating on collecting and arranging black folk music. After writing Izibongo ZikaShaka, he met Prof. Themba Msimang, a poet who has supplied the lyrics for many of his compositions.
12 Soweto Songsters
Khumalo has often served as an ajudicator of major choral compositons. He is both Conductor and Director of the Soweto Songsters, the Central Division Songsters of the Salvation Army. The group has performed in Britain, Israel and Norway.

13 Khumalo Festival
SAMRO recounts that a music festival was held in 1983 in recognition of Khumalo's work as a composer:
A special Music Festival was given in Khumalo's honour in November 1983 by the Amazwi KaZulu Choir "in recognition for [his] persistently high quality output as a composer, and [his] magnificent Zulu idiom in some of [his] best compositions" (Chris Mchunu, PRO).
14 Contest & Ceremony
The bio recounts that the composer won a major songwriter contest and wrote another work in honor of Archbishop Desmond Tutu:
He won the African Bank Tenth Anniversary Songwriter Contest with a work titled Isibaya Esikhulu Se-Afrika, and wrote Intonga YoSindiso for the enthronement in 1986 of Archbishop Desmond Tutu (from whom Khumalo learned to play cricket).
Khumalo has also been commissioned to write music for a number of high-profile occasions.

15 People of Africa, Unite!
Since 1989, Khumalo and his SAMRO colleague Richard Cock have jointly served as Music Director of the annual Sowetan Nation Building Massed Choir Festival. Five African Songs is Kumalo's arrangement of four traditional songs and one modern tune for choir and symphony orchestra. It has been recorded by the National Symphony Orchestra and Chamber Choir of the South African Broadcasting Corporation, led by Richard Cock, Conductor and is available on Marco Polo 8.223832 (1995). Two of the five songs are in the Xhosa language, and the other three are in Zulu. In the liner notes Khumalo comments on the one contemporary song:
Banto Be-Afrika Hlanganani is a song in modern African traditional style composed on the Nation Building theme: "People of Africa, unite!"
16 Ushaka KaSenzangakhona
Prof. Khumalo is also the composer of the opera Ushaka KaSenzangakhona: An epic in music and poetry on Shaka, son of Senzangakhona, a blend of Zulu and European elements. This work is performed by the National Symphony Orchestra of the SABC, led by Robert Maxym, Conductor, and Mzilikazi Khumalo, Choral Director. Soloists are Sibongile Mngoma, soprano;
Sibongile Khumalo, mezzo-soprano; Themba Mkhwani, tenor; and Peter Mcebi, baritone. The recording is Sony Classical CDCSL 8047 (1997). It is available from SAMRO, whose address is below. The Narrator is Prof. Themba Msimang, a Professor of African Languages at the University of South Africa. He writes in the liner notes that he and Khumalo found they shared an interest in the history of King Shaka, founder of the Zulu Empire. The two became friends, and ultimately Msimang wrote an epic narrative on King Shaka from the Zulu perspective, which Khumalo set to music. The four parts of the opera have descriptive titles:
PART 1 - The circumstances surrounding
the birth of Shaka.

PART 2 - His youth and the difficulties he
endured as a result of his rejection by his father's court. Shaka eventually
overpowers his enemies and takes the
Zulu throne.
PART 3 - His reign which is likened to
thunder. His victories are recounted and
the section ends with traditional praises
dedicated to King Shaka.

PART 4 - The death of King Shaka.
17 Significance of Opera
SAMRO explains the artistic and cultural significance of the work in its bio of Mzilikazi Khumalo:
This large-scale work for full orchestra, choir and soloists was commissioned by the Foundation for the Creative Arts (FCA), and relates the story of the Zulu King Shaka in praise poetry and music. It is 'a work of major proportions and major significance. .... a complex piece which, at various levels, combines two great cultural traditions: on the one hand, that of Zulu poetry and song and, on the other, the instrumental and orchestral tradition of Europe' (Stephen Wikner, Artistic Director, Transvaal Philharmonic Orchestra). The premiere peformance was given on 25 November 1994 in the City Hall, Johannesburg by massed choirs with the above-mentioned orchestra, conducted by the American-born Robert Maxym. (Printing of the vocal parts of this work was sponsored by SAMRO.)
18 Emeritus Professor
Dr. James Stephen Mzilikazi Khumalo is now an Emeritus Professor of the University of the Witwatersrand, Honorary Professional Research Fellow in its School of Music, and Vice-Chairman of the Board of Directors of SAMRO. The bio points out that he also played a role in producing an official version of the South African National Anthem, at the request of President Nelson Mandela. Khumalo also serves on the Music Committee of the National Arts Council.

19 Lifetime Award
The website of Book SA, reported in an article dated June 18, 2007 that Prof. Khumalo had received a Lifetime Achievement Award in connection with the M-Net Prizes for fiction:
The 2007 M-Net Prizes for fiction - the only major literary awards in South Africa for black African languages, in addition to English and Afrikaans - were announced last night at a joint function with the Via Afrika Awards in Cape Town.
An M-Net "Lifetime Achievement Award" accompanied them: it went to Professor Mzilikazi Khumalo, former head of the Department of African Languages at Wits, for a life spent in the service of African literature.
All the awards are worth R30 000.
20 Family
The SundayWorld article of July 9, 2012 continues:
Khumalo, a high school teacher by training, and his wife, Ditlhare, have four children who he says are not that musical.

"My third son has a degree in music but is a church minister and my first daughter sings but is a medical doctor," he says.
21 Mzilikazi: Emhlabeni
Mzilikazi: Emhlabeni was written by the South African composer Bongani Ndodana-Breen. Gwen Ansell's interview with him was published in Business Day Live, April 4, 2013. It reads, in part:
Based in Cape Town, we talk in Johannesburg on the eve of the premiere of his piano concerto, Mzilikazi: Emhlabeni, at the city's International Mozart Festival...
...
The new concerto marked an additional landmark: "It was my first piano concerto and, I believe, the first such from a composer of colour here. It's a homage to Prof Mzilikazi Khumalo, a great man of music and letters, but also — because it is based on his liberation anthem, Bawo Thixo Somandla — a bridge between the two parallel musical worlds that have grown up here: the white orchestral/classical world and the black choral world."
22 SAMRO Ltd
This page was made possible by an official biography generously provided by SAMRO Ltd., P.O. Box 31609 Braamfontein, 2017 Johannesburg, South Africa www.samro.org.za/

This page was last updated on March 5, 2022