Home
Blog
Composers
Musicians
Black History
Audio
About Us
Links
Composers:
Adams, H. Leslie
Akpabot, Samuel Ekpe
Alberga, Eleanor
Bonds, Margaret Allison
Brouwer, Leo
Burleigh, Henry Thacker
Coleridge-Taylor, Samuel
Cunningham, Arthur
Dawson, William Levi
Dede, Edmund
Dett, R. Nathaniel
Elie, Justin
Ellington, Edward K. "Duke"
Euba, Akin
Garcia, José Mauricio Nunes
Hailstork, Adolphus C.
Holland, Justin
Jeanty, Occide
Johnson, James Price
Joplin, Scott
Kay, Ulysses Simpson
Khumalo, Mzilikazi
Lambert, Charles Lucien, Sr.
Lambert, Lucien-Leon G., Jr.
Lamothe, Ludovic
Leon, Tania
Moerane, Michael Mosoeu
Perkinson, Coleridge-Taylor
Pradel, Alain Pierre
Price, Florence Beatrice Smith
Racine, Julio
Roldan, Amadeo
Saint-Georges, Le Chevalier de
Sancho, Ignatius
Smith, Hale
Smith, Irene Britton
Sowande, Fela
Still, William Grant
Walker, George Theophilus
White, José Silvestre
Williams. Julius Penson
AfriClassical Blog
Companion to AfriClassical.com

William J. Zick, Webmaster, wzick@ameritech.net


© Copyright 2006 - 2022
William J. Zick
All rights reserved for all content of AfriClassical.com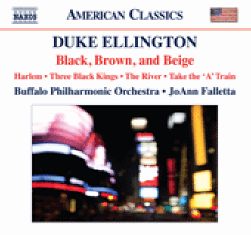 Duke Ellington
Black, Brown, and Beige
Buffalo Philharmonic Orchestra
JoAnn Falletta, Conductor
Naxos 8.559737 (2013)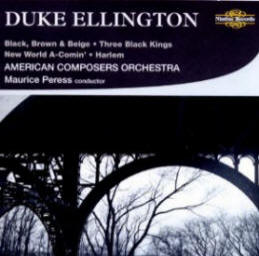 Duke Ellington
Four Symphonic Works
American Composers Orchestra
Maurice Peress, Conductor
Nimbus 25 11 (2008)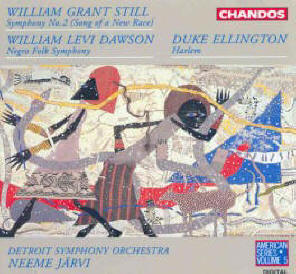 Harlem
Detroit Symphony Orchestra
Neeme Järvi, Conductor
Chandos 9226 (1993)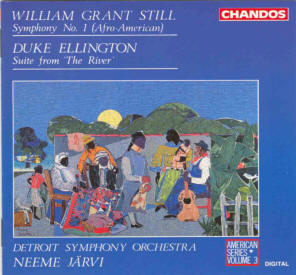 Suite from 'The River'
Detroit Symphony Orchestra
Neeme Järvi, Conductor
Chandos 9154 (1993)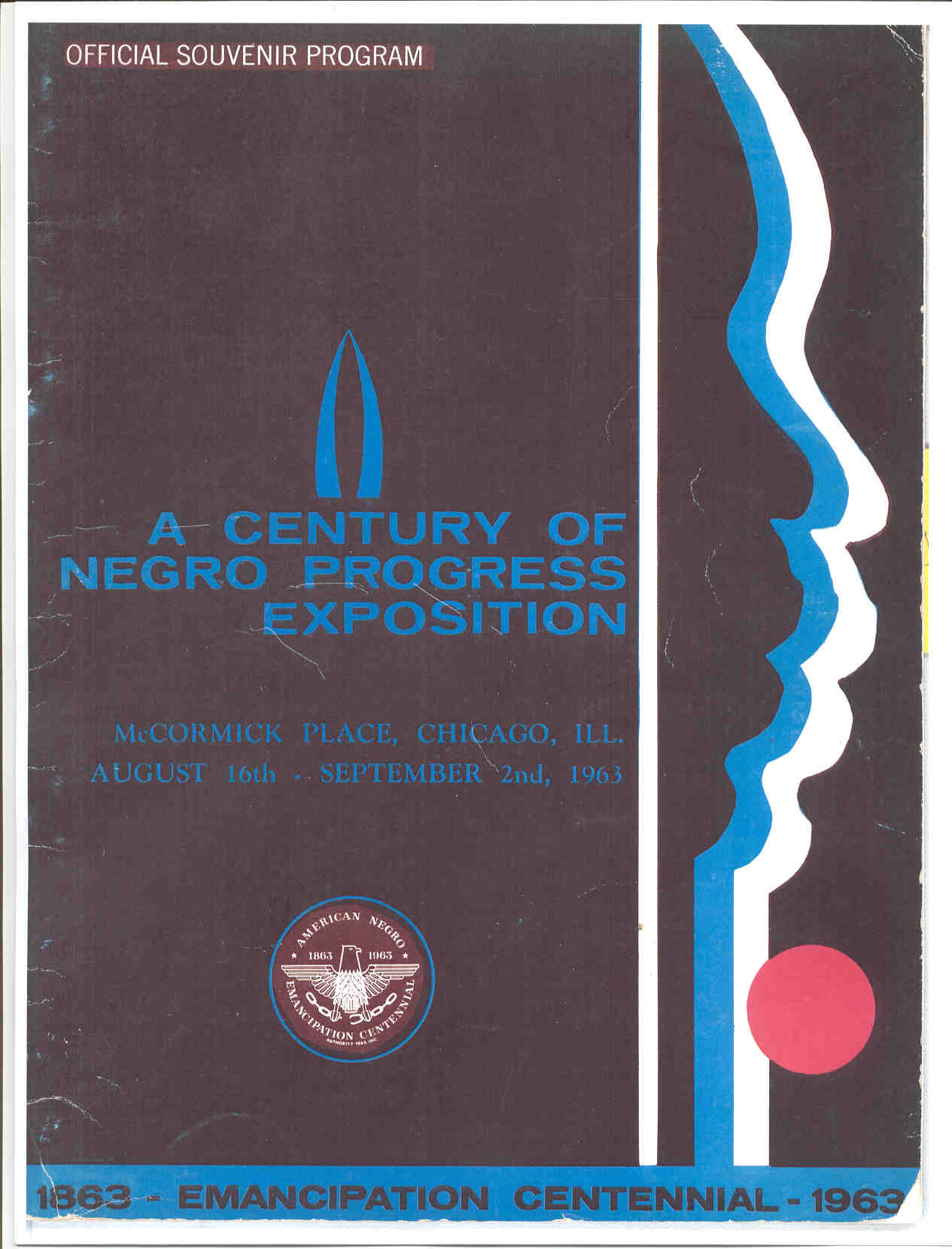 "A Century of Negro Progress Exposition," McCormick Place, Chicago, Ill., August 16th – September 2nd, 1963. Photo from Barbara Wright-Pryor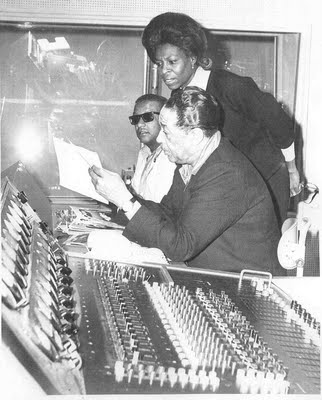 Duke Ellington, Billy Strayhorn and vocalist Lil Greenwood (Photo from 1963 musical revue My People provided by Barbara Wright-Pryor)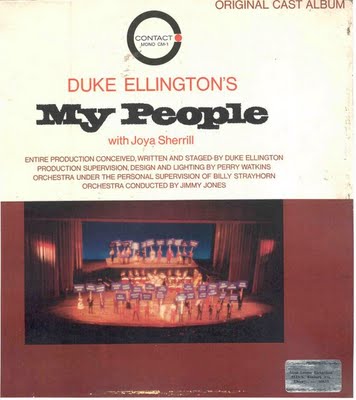 Duke Ellington's My People
Original Cast Album
Contact Records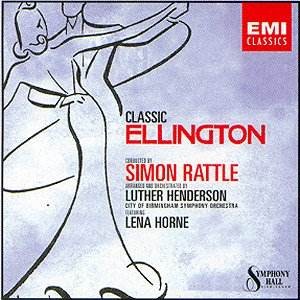 Classic Ellington
City of Birmingham Symphony Orchestra
Simon Rattle, conductor
EMI 5 57014 2 (1999)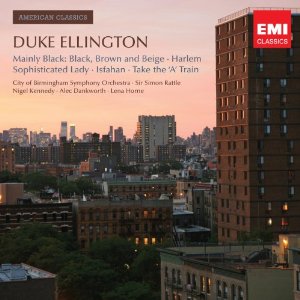 Duke Ellington Mainly Black: Black, Brown and Beige - Harlem - Sophisticated Lady - Isfahan - Take the 'A' Train
City of Birmingham Symphony Orchestra; Sir Simon Rattle
Nigel Kennedy, violin
Alec Danworth, double bass
Lena Horne, voice
EMI Classics 41119 (2010)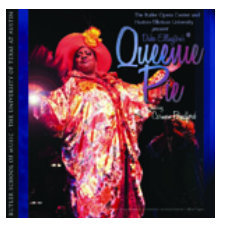 Queenie Pie
Longhorn Records (2010)
University of Texas at Austin
Home -> Composers -> Ellington, Edward Kennedy "Duke"

Français



November 1968 performance of Duke Ellington's Sacred Concert at Chicago's Auditorium Theater.
Photo from Barbara Wright-Pryor, who says: "I was Duke's choral director and am seated in the first row, fifth from right."
1 Birth
Edward Kennedy "Duke" Ellington was an African American composer, pianist and jazz band leader. He was born into a middle-class family in Washington, D.C. on April 29, 1899. James Clyde Sellman writes in Africana Encyclopedia:
For nearly half a century Duke Ellington led the premier American big band, and through his compositions and performances he brought artistic credibility to African American jazz. Ellington played the piano, but his orchestra was his true instrument.
2 Classical Music
Although best known for composing, leading and performing about 2,000 "big band" jazz pieces, Ellington also composed orchestral, chamber and solo piano works in the classical genre. His classical music has gradually gained new listeners in recent years due to recordings which are the focus of this Web page.

3 Early Years
Young Edward began studying the piano at age seven. He was about 17 years old when he began playing piano professionally. By age 20 he was a bandleader, playing at social events. In 1922 Ellington moved to New York City, where he played with both theater orchestras and jazz bands. His first Broadway score was for a 1924 musical Chocolate Kiddies, a show which did not fare well. Also in 1924, Ellington became the leader of a six-member jazz band previously known as the Elmer Snowden Band. Within two years the Ellington Orchestra had eleven musicians in its ranks.

4 Cotton Club
Africana Encyclopedia recounts Ellington's association with the Cotton Club in Harlem:
In the fall of 1927 the Ellington orchestra secured a long-term gig at the Cotton Club, New York City's most prestigious nightclub, which was wired to permit "live" remote radio broadcasts that gave Ellington nationwide recognition.
In keeping with the times, the Cotton Club was racially segregated. Only whites were admitted as patrons; all of the waiters and most of the entertainers were African American. During the engagement at the Cotton Club the band was called the Cotton Club Orchestra.

5 Style
Ellington established the distinctive style of his orchestra with a series of recordings in 1927-28. The songs were timed to fit 78 r.p.m. records, which could only record about three minutes per side. The titles included Ellington's 1928 composition Black Beauty and became an enduring part of the orchestra's repertoire. The ensemble gained additional national publicity from its performance in the 1930 film Check and Double Check. Ellington's first longer recording was of his composition Creole Rhapsody. It was 8 1/2 minutes long and took up two sides of a 78 r.p.m. record. Africana Encyclopedia adds:
In the mid-1930s Ellington wrote the score for a nine-minute musical film, Symphony in Black (1935), which featured a young Billie Holiday and foreshadowed Black, Brown, and Beige.
Ellington and his orchestra toured the U.S. frequently during the 1930s and enjoyed success in Europe during tours there in 1933 and 1939. In 1938 the orchestra took on Billy Strayhorn, who would be Ellington's closest collaborator for the next 30 years.

6 Carnegie Hall
In 1943 Ellington and his orchestra performed at New York's legendary Carnegie Hall. The program included a ground-breaking 44-minute work entitled Black, Brown, and Beige: A Tone Parallel to the History of the American Negro. The work did not fit the conventions of either jazz or classical music, and the response of music critics was so disappointing that Ellington never again performed the entire piece in public. However, Africana Encyclopedia notes:
Neither Ellington nor Strayhorn were dissuaded from creating other large-scale jazz suites, including the Liberian Suite (1947); Harlem (1951); the Festival Suite (1956); Such Sweet Thunder (1957), a musical tribute to Shakespeare; Suite Thursday ( 1960), which paid tribute to author John Steinbeck; and the Far East Suite (1966). Ellington also composed film scores for Anatomy of a Murder (1959)
and Paris Blues (1961).
7 Don Shirley
Don Shirley is an African American pianist who was born in Kingston, Jamaica in 1927 and died in 2013. He was best known for his jazz performances and recordings, but he was classically trained and had a noteworthy classical career. Duke Ellington heard him play at Basin Street in New York.
In 1955 Don Shirley was piano soloist for music of Ellington at Carnegie Hall, in a concert of the Symphony of the Air. His obituary by Bruce Weber in The New York Times was Donald Shirley, a Pianist With His Own Genre, Dies at 86. It was published April 28, 2013:
Still, he was close to many well-known jazz figures, including Duke Ellington, in whose honor he wrote "Divertimento for Duke by Don," a symphonic work that had its premiere in 1974, performed by the Hamilton Philharmonic Orchestra of Ontario.
8 Civil Rights
Ellington participated in the Civil Rights movement from the 1940s on. In 1941 he wrote the score for the musical Jump for Joy, a show intended to debunk common movie stereotypes of African American popular culture. During the Carnegie Hall premier of Black, Brown, and Beige he told the audience of society figures that people of all colors were backing the war effort to defend the red, white and blue.
9 Sacred Concerts
Ellington began exploring spiritual themes with his Concert of Sacred Music in 1965. Africana Encyclopedia says of the work:
In the Beginning, God, Ellington's opening movement, won a 1966 Grammy Award for best original jazz composition. In 1968 Ellington composed a Second Sacred Concert. At the time of his death he was preparing a third.
Barbara Wright-Pryor was choral director for the November 1968 performance of Ellington's Sacred Concert at Chicago's Auditorium Theater.
10 John Coltrane
During Ellington's final years he and the orchestra maintained a heavy schedule of one-night stands even as he recorded in small groupings with such jazz artists as Charles Mingus and Max Roach. One notable recording in 1962 was Duke Ellington and John Coltrane.

11 My People
Barbara Wright-Pryor, President, Chicago Music Association, worked with Ellington twice and says of him:
Duke composed My People for Abraham Lincoln's Emancipation Proclamation Centennial Celebration 'A Century of Negro Progress Exposition' and the elaborate production ran from August 16 to September 2, 1963 in the Arie Crown Theater at Chicago's McCormick Place.
...
In 1963, Robert Morris was a young undergraduate music major at DePaul University's School of Music and a member of the Irving Bunton Singers. Duke appointed him arranger for all of the choral music for My People.
...
My People was being performed in Chicago...when the historic March on Washington took place August 28, 1963 during which Dr. Martin Luther King, Jr. gave the legendary "I Have a Dream" speech.
12 Revue Revived
Ms. Wright-Pryor recalled her involvement in the 1963 revival of the musical My People:
In May, 1998, twenty-four years after his death, I was privileged to re-create, produce and restage his 1963 musical revue, My People, at Chicago's New Regal Theater with his granddaughter Mercedes Ellington as stage director and choreographer, and Dr. Robert L. Morris, founder/conductor the Leigh Morris Chorale of Minneapolis, MN, as choral director for the 16th International Duke Ellington Conference that was held in Chicago.
13 Final Years
On the occasion of his 70th birthday party in 1969 he was given the Medal of Freedom by President Richard Nixon. In 1973 Ellington was diagnosed with lung cancer. Barbara Wright-Pryor says:
During the final stages of his bout with lung cancer, Duke was hospitalized at Sloan-Kettering Cancer Center in NYC and had a keyboard in his room on which he continued to compose and play daily until too ill to do so.
Ellington passed away in New York City on May 24, 1974.
14 New World a-Comin'
Ellington's New World a-Comin' (10:18) has been recorded by pianist Marco Fumo on the Italian music label Dynamic CDS 351 (2000) along with music by George Gershwin, James Price Johnson, Scott Joplin and William Grant Still. The liner notes give this description of the work:
[O]ne of the most admired works by the mature Ellington, that of the great "suites". As a matter of fact, this work is more like a compact symphonic poem of literary inspiration, which Duke composed in 1943 and performed often and in various versions; for solo piano, with jazz orchestra or symphony orchestra. Every time, he played it in a slightly different way, ending up inserting it in his First Sacred Concerto, to which it contributed, as an English critic in the 1930s once said, its "prophetic breath". This work beautifully blends a noble inspiration and the graceful humour of everyday life.
Pianist Willis Delony has also recorded New World a-Comin', on Centaur CRC 2468 (2000).

15 Detroit Symphony
The Detroit Symphony Orchestra, led by Neeme Järvi, Conductor, has recorded three of Ellington's works for symphony orchestra on CDs released by the British label Chandos. Harlem, Suite from "The River" and Solitude are found on Chandos 9909 (2001). Suite from "The River" also appears on an earlier disc, Chandos 9154 (1993). Harlem is also found on Chandos 9226 (1993).

16 The River
Michael Fleming provides some background for Ellington's writing of Suite from "The River" in the liner notes of Chandos 9154:
His son, Mercer Ellington, recalls that "the idea for The River had been kicking around for several years, ever since Stanley Dance had suggested an extended work depicting the natural course of a river". The elder Ellington composed the music for The River in 1970, during the same period of time when The New Orleans Suite was taking shape.
Michael Fleming tells us that when The River had its premier in 1971, Clive Barnes lauded it in The New York Times as:
...the most considerable piece from Mr. Ellington since his Black, Brown and Beige Suite.
17 Simon Rattle
The website of www.emiclassics.com quotes Simon Rattle discussing the concept of the CD Classic Duke Ellington:
When I approached Luther about the project, I had little idea that I was, in fact, asking him to do what he and The Duke had discussed many years earlier but had never brought to fruition – an orchestral setting of his work with jazz soloists where the orchestra was a living organic equal partner rather than a magnificent back-up. The beauty and power of the arrangements exceeded our wildest dreams.
The roster of personnel reads: Simon Rattle, conductor; Lena Horne, vocals; Clark Terry, trumpet; Bobby Watson, alto sax; Joshua Redman, tenor sax; Joe Lovano, tenor sax; Regina Carter, violin; Geri Allen, piano; Lewis Nash, drums; Peter Washington, bass; City of Birmingham Symphony Orchestra. Tracks include: Take The "A" Train, You're the one, Sophisticated Lady, Harlem, Isfahan, Ad lib on nippon, That doo-wah thing, Something to live for, Come Sunday, Solitude in Transblucency, Maybe and Things ain't what they used to be.

18 Symphonic Works
Maurice Peress conducts the American Composers Orchestra on the CD Four Symphonic Works by Duke Ellington, Music Masters Jazz 7011 (1992). The program begins with Black, Brown and Beige Suite (20:09), comprised of Work Song, Come Sunday and Light. The second work is Three Black Kings (19:16), which includes King of the Magi, Solomon and Martin Luther King. Next comes New World a-Comin' (13:55), followed by Harlem, For Jazz Band and Orchestra (15:19). Personnel are: Frank Wess, alto saxophone; Richard Chamberlain, trombone; Jimmy Heath, tenor and soprano saxophones; Roland Hanna, piano; Stephen Hart, clarinet; Jon Faddis, trumpet; Bill Easley, clarinet; Ron Carter, bass; and Butch Miles, drums.
19 Piano Four Hands
Duo Campion-Vachon (the Campion-Vachon duo) is made up of two classical and jazz pianists from Quebec. Duke Ellington: Piano Four Hands is their recording on the Canadian label Analekta AN 2 9820 (2005). Analekta's website, www.analekta.com, gives this description of the disc:
Some thirty years after his death, Duke Ellington - pianist, composer, arranger, and bandleader - remains one of jazz's most enduring legends. A great many of his works, like the ones on this recording arranged for piano four-hands, have become jazz standards, pieces that successive generations of jazz musicians assimilate and remake in their own image or interpret as faithfully as possible to the originals.
20 Queenie Pie
The Chicago Opera Theater announced on May 17, 2013 that it would produce Duke Ellington's only opera, Queenie Pie:
Interested in the opera genre since the 1940s, Ellington started composing Queenie Pie in 1962, when he received a commission from the New York public TV station WNET. In collaboration with librettist Betty McGettigan, he worked on the opera from 1967 to his death in 1974, but the work remained unfinished.
...
COT performs the version that librettist McGettigan created for the Butler Opera Center at the University of Texas at Austin in 2009, proclaiming it to be the closest to Ellington's original vision.
21 Resources

Duke Ellington (www.dukeellington.com) - Official site maintained by CMG Music. Includes biography, photos and quotes by and about Ellington.

Wikipedia (http://en.wikipedia.org/wiki/Duke_Ellington) - Wikipedia article with photographs, biographical and musicological details, OCG audio samples, and Internet references to related topics and people.

Duke Ellington Panorama (www.depanorama.net) - Project of the Washington, D.C. Ellington Society. List of compositions, sessions, information on joining other societies and Love You Madly, an e-mail discussion group, glossary, time line, centennial remembrances.

Ellington on the Web (http://ellingtonweb.ca) - An extensive compilation of websites related to Duke Ellington and his Associates.

The Duke Ellington Society (http://museum.media.org/duke) - Official site. Includes biographical information plus appreciation, his interpreters, sound clips, information about the society, links.

Schirmer.com (www.schirmer.com/composers/ellington_bio.html) - Biography, works, selected discography, articles, links.
This page was last updated on March 5, 2022