Home
Blog
Composers
Musicians
Black History
Audio
About Us
Links
Composers:
Adams, H. Leslie
Akpabot, Samuel Ekpe
Alberga, Eleanor
Bonds, Margaret Allison
Brouwer, Leo
Burleigh, Henry Thacker
Coleridge-Taylor, Samuel
Cunningham, Arthur
Dawson, William Levi
Dede, Edmund
Dett, R. Nathaniel
Elie, Justin
Ellington, Edward K. "Duke"
Euba, Akin
Garcia, José Mauricio Nunes
Hailstork, Adolphus C.
Holland, Justin
Jeanty, Occide
Johnson, James Price
Joplin, Scott
Kay, Ulysses Simpson
Khumalo, Mzilikazi
Lambert, Charles Lucien, Sr.
Lambert, Lucien-Leon G., Jr.
Lamothe, Ludovic
Leon, Tania
Moerane, Michael Mosoeu
Perkinson, Coleridge-Taylor
Pradel, Alain Pierre
Price, Florence Beatrice Smith
Racine, Julio
Roldan, Amadeo
Saint-Georges, Le Chevalier de
Sancho, Ignatius
Smith, Hale
Smith, Irene Britton
Sowande, Fela
Still, William Grant
Walker, George Theophilus
White, José Silvestre
Williams. Julius Penson
AfriClassical Blog
Companion to AfriClassical.com


Guest Book
William J. Zick, Webmaster, wzick@ameritech.net
© Copyright 2006 - 2021
William J. Zick
All rights reserved for all content of AfriClassical.com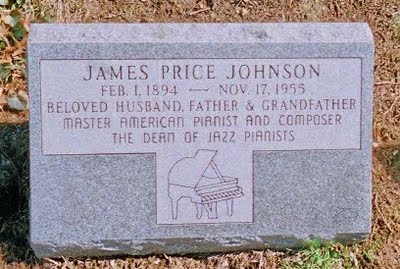 James Price Johnson
Grave Marker
Financed by 2009 "Rent Party"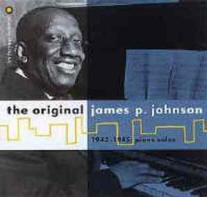 The Original James P. Johnson
Smithsonian Folkways 40812 (1996)

Runnin' Wild (1921-1926)
Tradition Records 1048 (1997)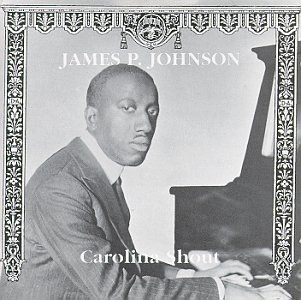 Carolina Shout
James P. Johnson, piano
(Piano roll transfers)
Biograph 105 (1993)
Home -> Composers -> Johnson, James Price
Jazz Nocturne: American Concertos of the Jazz Age; Johnson, Reser, Gershwin, Suesse; Hot Springs Music Festival Symphony Orchestra; Richard Rosenberg; Naxos 8.559647 (2011)
[James P. Johnson's Yamekraw: A Negro Rhapsody, orchestrated by William Grant Still, is the opening work on the CD, which is the world premiere recording of the final version of the work]
Audio Sample: Clarion CLR907CD (2004); Got the Saint Louis Blues: Classical Music in the Jazz Age; VocalEssence Ensemble; Philip Brunelle, Conductor Yamekraw: A Negro Rhapsody
1 Birth
The African American composer and pianist James Price Johnson was born on Feb. 1, 1894 in New Brunswick, New Jersey. His biography is James P. Johnson: A Case of Mistaken Identity by Scott E. Brown. Brown also wrote the liner notes for the CD Victory Stride: The Symphonic Music of James P. Johnson, Music Masters 67140 (1994). Pianist Leslie Stifelman and The Concordia Orchestra are led by Marin Alsop, conductor. Dr. Dominique-René de Lerma of Lawrence University in Appleton, Wisconsin has specialized in Black composers for four decades, and has made his research available to this website. Regarding Johnson's father, Scott E. Brown writes:
The original record of birth in the Bureau of Statistics in New Brunswick spells out the name William H. Johnson and that of James P.'s mother Josephine Harrison.
2 Youth
Johnson's biographer tells us that the family's relocation to Jersey City led James to decide he wanted to become a "tickler":

In 1902, when Johnson was eight, the family moved to Jersey City.
***
The entertainment inside the saloons was usually supplied by an individual known as a "tickler," and it was a tickler that James P. Johnson knew he wanted to become. A tickler was a ragtime piano player, so named for his manner of handling not only the ivories but women as well.
3 Symphony Concerts
In spite of his family's working class status, Brown writes, young James began attending symphony concerts in New York:
In 1905, when Johnson was eleven, he began to attend New York symphony concerts. A friend of one of his older brothers worked as a waiter, and was able to get tickets from Josef Stransky, the Symphony's conductor. It was his first exposure to the old masters. "I didn't get much out of them," said Johnson, "but the full symphonic sounds made a great impression on me." They obviously struck some internal sensitivity, as he later utilized the forms of Western art music to compose his own rhapsodies, symphonies, and concertos based on Afro-American musical themes.
4 Pianist
A summer job in 1912 proved so profitable that James took a job in a cabaret instead of returning to school in the autumn, Scott Brown relates:
During the summer of 1912, Johnson made his way out to Far Rockaway, a beach resort near Coney Island.
***
"It was a rough place, but I got nine dollars and tips, or about eighteen dollars a week over all. That was so much money that I didn't want to go back to school."
***
The author quotes Johnson: "That fall, instead of going back to school, I went to Jersey City and got a job in a cabaret run by Freddie Doyle."

5 Music Lessons
The biographer writes that Johnson began music lessons with Bruto Giannini:
Johnson soon undertook his first formal musical training. He had become friendly with Ernest Green, a cabaret tickler who was also very proficient in the popular classical repertory. Johnson recalled his virtuoso renditions of the "William Tell" and "Light Cavalry" Overtures. Green's mother encouraged Johnson to study formally with an Italian music teacher named Bruto Giannini. "Ernest's mother got opera lessons from old professor Giannini by doing his housework. And she got him to teach me my harmony and counterpoint for just a dollar a lesson. He taught me for four years. I had to throw away my fingering and learn to put the right finger on the right note. I was on Bach, and double thirds need good fingering."
6 Chronology
Scott Brown discusses a controversy over the chronology of Johnson's lessons with Bruto Giannini:
Although some sources indicate that Johnson studied with Giannini while still in Jersey City, there is evidence to the contrary. In his conversation with Tom Davin, Johnson implies that he started with Giannini in 1913; 1914 is given by Charles Edward Smith in his liner notes to Johnson's "New York Jazz" album. Johnson also refers to Ernest Green as "a new friend of mine" after he had moved to New York. It is therefore more likely that Johnson's training with Giannini began sometime around 1913 and lasted to 1916 or 1917. The time sequence is important, as it appears that Johnson began serious study not as a child of eight or nine, but after playing many professional engagements and building groundwork for his own style.
7 Newark
The biography of Johnson reports that the pianist went to Newark in 1914:
After a brief return to New York, Johnson went to Newark, New Jersey in the fall of 1914. There he met Willie "The Lion" Smith, a first-class tickler who came to be one of Johnson's closest friends. Smith was playing in a place called Randolph's, located in the tough section of Newark known as the Coast. Johnson was traveling with a singer-dancer named Lillie Mae Wright, who later became Mrs. James P. Johnson.
8 Stride Piano
In his liner notes for Victory Stride, Scott E. Brown points out that James P. Johnson was called the Father of Stride Piano:
James P. Johnson was an astounding musician, arguably the most important black musician in New York during the decade of the 1920s. He is best known in jazz as the Father of Stride Piano, a two-handed, solo piano style that developed out of ragtime and flourished in the Northeast, especially Harlem, during the 1920s as the first true jazz idiom. He has influenced many successive jazz musicians, including his students Fats Waller and Duke Ellington.
9 Carolina Shout
Brown's liner notes emphasize the importance of James P. Johnson's Carolina Shout:
"Carolina Shout" is considered by many to be the first recorded jazz piano solo (1921). Johnson was the first black staff musician for the QRS piano roll company and favorite accompanist of Bessie Smith and Ethel Waters.
10 Charleston
Composing for musicals was a major part of Johnson's career as well, the Victory Stride liner notes explain:
As a composer, he scored all or part of at least 16 musical revues during the 1920s. Out of his 1923 Broadway production Runnin' Wild came the tune and dance most closely associated with the entire decade, the "Charleston."
11 Music Studies
Prof. Dominique-René de Lerma wrote the liner notes for the CD Got the Saint-Louis Blues: Classical Music in the Jazz Age, Clarion CLR907 (2004), which includes a performance of Johnson's Yamekraw: A Negro Rhapsody (15:49) by pianist Paul Shaw and the VocalEssence Ensemble conducted by Philip Brunelle. Dr. De Lerma relates that Johnson's music studies with Bruto Giannini were followed by piano lessons from Eubie Blake. He continues:
Toward the end of the 1920s, Johnson began devoting time to the study of orchestration, counterpoint, and harmony.
12 Serious Composer
In his liner notes, Scott Brown agrees that Johnson was intent on becoming a serious composer:
Of all his accomplishments, James P. Johnson most wanted to be remembered as a serious composer of symphonic music utilizing African-American musical themes. When the Depression ended the decade of the Charleston, James P. Johnson semi-retired from active Harlem nightlife to concentrate on symphonic composition.
***
Despite little recognition and limited encouragement, James P Johnson would write two symphonies, a piano and a clarinet concerto, two ballets, two one-act operas and a number of sonatas, suites, tone poems and a string quartet.
13 Yamekraw
The biographer writes that Yamekraw: A Negro Rhapsody was the first work to bring to life Johnson's dream of being a serious composer:
The foreword to "Yamekraw" describes the intent of the work as "A genuine Negro treatise on spiritual, syncopated and 'blue' melodies by James P. Johnson, expressing the religious fervor and happy moods of the natives of Yamekraw, a Negro settlement situated on the outskirts of Savannah, Georgia.
***
"Yamekraw" was the first realization of Johnson's desire to be considered a serious composer.
14 Orchestration
Prof. De Lerma explains that Yamekraw was written to celebrate an African American community in Georgia. He also provides details of the work's orchestration and premiere:
Written in celebration of a black community on the outskirts of Savannah, Yamekraw: A Negro Rhapsody (1927) was first performed by Fats Waller in a Carnegie Hall concert organized by William C. Handy. It seems most likely that Johnson's relative inexperience in orchestral writing prompted him to ask William Grant Still to rework the score in 1928. Still's version calls for three saxophones, two trumpets and trombone joined by banjo, drums and strings. The solo piano part amply illustrates Johnson's wide reach, with an abundance of stride piano left-hand tenths and extended right-hand excursions, all the while infused with the blues.
15 Final Version
Richard Rosenberg conducts the Hot Springs Music Festival Symphony Orchestra in James P. Johnson's Yamekraw: A Negro Rhapsody, orchestrated by William Grant Still, the opening work on the CD Jazz Nocturne - American Concertos of the Jazz Age; Naxos 8.559647 (2011). He writes of the Carnegie Hall concert in the liner notes:
Unfortunately, Johnson was not released from his duties as conductor of the musical Keep Shufflin' that evening, so his protégé Thomas "Fats" Waller played the piano solo part at the concert. The piece was quite successful—it was used as the soundtrack of a 1930 Vitaphone motion picture short subject also entitled Yamekraw, and as the overture to Orson Welles' production of "Macbeth" later in the 1930s, and was recorded in abbreviated versions several times.
...
This disc marks the première recording of the complete, final orchestral version of the work.
16 Solo Piano
A solo piano version of Yamekraw: A Negro Rhapsody (14:12) has been recorded by pianist Marco Fumo on Rhapsody in Black and White, Dynamic 351 (2000). He teaches piano at the Conservatory of Castel Franco Veneto in Italy and is a specialist in the performance of African American piano repertoire of the jazz age. He writes in the liner notes:
Most of his output is known only to the lovers of jazz, while some of his symphonic and theatrical works appear to have been lost. His rhapsody Yamekraw (1927) was his first large-scale work, a sort of answer to the Rhapsody in Blue: it is a portrait of the world of the black people made from the inside. Like Joplin, Johnson describes a group of country people from the South, re-evoking in rapid sequence their moments of feast, of prayer, of labour.
Fumo says the composer recorded the piano version in the 1940s for Folkways.
17 Fellowship
The biography relates an effort by Johnson to obtain a Guggenheim Fellowship:
Sometime in the mid-1930s, Johnson contacted James Weldon Johnson, asking for his help in obtaining a Guggenheim Fellowship. James P. expressed his strong desire to continue his musical education and to keep working on new compositions, an endeavor which required financial support. No records indicate he was successful in obtaining a grant, but he pursued his music nonetheless.
18 The Organizer
Scott Brown lists some additional serious compositions of Johnson, including the 1934 work Concerto Jazz A Mine:
In 1932, Johnson completed his "Harlem Symphony."
***
A second symphony, "Symphony in Brown," was copyrighted in 1935 by Johnson himself (as was "Jassamine") and never published. A number of other serious pieces have been attributed to Johnson, but no trace of them has been found. There is one other work, however, which is of musical, cultural, and historical interest. James P. Johnson collaborated with the famous poet Langston Hughes to create The Organizer – A Blues Opera in One Act.
***
The Organizer was performed at Carnegie Hall in 1940 as part of an International Ladies' Garment Workers Union convention.
19 Strokes
Dr. Dominique-René de Lerma writes of two of the strokes Johnson suffered:
His first stroke in 1940 did not prevent him from presenting a concert of his own works at Carnegie Hall in 1944, but a much more serious stroke occurred in 1951, confining him to bed until his death.
20 Death
James Price Johnson died on Nov. 17, 1955, we are told by Scott E. Brown:
James P. Johnson died as a result of a final massive stroke. He was admitted to Queens General Hospital after having suffered the stroke (his eighth) at home two days earlier. All the major newspapers carried his obituary, but his name probably meant little to the general public. One thing, however, is very interesting about these obituaries. In their headlines and opening paragraphs, they identify Johnson not only as a jazz pianist but also as a prolific composer.
21 More CDs
Dozens more CDs of the music of James P. Johnson are available at music stores and at Web sites such as www.amazon.com and www.arkivmusic.com Examples are: Harlem Stride Piano 1921-1929, Epm Musique 158952 (1997) and Runnin' Wild (1921-1926), Tradition Records 1048 (1997).

22 Resources

JamesPJohnson.org www.jamespjohnson.org Biography and resources, including Talents of James P. Johnson Went Unappreciated, an obituary by John Hammond in Down Beat Magazine, December 28, 1955.

RedHotJazz.com/jpjohnson.html www.redhotjazz.com/jpjohnson.html Solo discography with ram audio files. Membership rosters and discography of James P. Johnson's bands and recording sessions.

Wikipedia.org http://en.wikipedia.org/wiki/James_P._Johnson Entry on James P. Johnson, with links to related articles in Wikipedia, The Free Encyclopedia.

This page was last updated on January 23, 2021