Home
Blog
Composers
Musicians
Black History
Audio
About Us
Links
Composers:
Adams, H. Leslie
Akpabot, Samuel Ekpe
Alberga, Eleanor
Bonds, Margaret Allison
Brouwer, Leo
Burleigh, Henry Thacker
Coleridge-Taylor, Samuel
Cunningham, Arthur
Dawson, William Levi
Dede, Edmund
Dett, R. Nathaniel
Elie, Justin
Ellington, Edward K. "Duke"
Euba, Akin
Garcia, José Mauricio Nunes
Hailstork, Adolphus C.
Holland, Justin
Jeanty, Occide
Johnson, James Price
Joplin, Scott
Kay, Ulysses Simpson
Khumalo, Mzilikazi
Lambert, Charles Lucien, Sr.
Lambert, Lucien-Leon G., Jr.
Lamothe, Ludovic
Leon, Tania
Moerane, Michael Mosoeu
Perkinson, Coleridge-Taylor
Pradel, Alain Pierre
Price, Florence Beatrice Smith
Racine, Julio
Roldan, Amadeo
Saint-Georges, Le Chevalier de
Sancho, Ignatius
Smith, Hale
Smith, Irene Britton
Sowande, Fela
Still, William Grant
Walker, George Theophilus
White, José Silvestre
Williams. Julius Penson


AfriClassical Blog
Companion to AfriClassical.com

Guest Book
William J. Zick, Webmaster, wzick@ameritech.net
© Copyright 2006-2021
William J. Zick
All rights reserved for all content of AfriClassical.com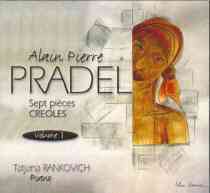 Sept pièces Créoles, Vol. 1
Tatjana Rankovich, piano
Dezi'l Production 001 (2000)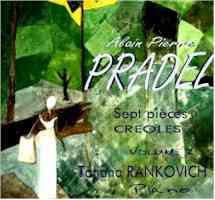 Sept pièces Créoles, Vol. 2
Tatjana Rankovich, piano
Dezi'l
Home -> Composers -> Pradel, Alain Pierre
Alain Pierre Pradel (b. 1949)

Guadeloupean Composer & Pianist


---


Table of Contents

Alain Pierre Pradel
Audio Samples: Dezi'l Production DP 001 (2000); Alain Pierre Pradel: Sept
pièces Créoles (Seven Creole Pieces), Vol. 1; Tatjana Rankovich, piano
a Le château de cendre
b La préférée
1 Birth
Born in 1949 in the former French West Indies colony of Guadeloupe, Alain Pierre Pradel began studying piano at age 12. His Web site, West Indies Piano http://perso.wanadoo.fr/pradel/alain.htm explains [Translated from French]:
For him, balance came from music, from the piano. Rural standards did not facilitate his learning. Classical works were not prized and were sometimes abandoned in favor of local airs. Both forms of music have a place in his heart and are sources of interest, of reflection
and of profound emotions. He was going to remain faithful and even seek to unite them, in spite of prejudgments.
2 La cité de voile
After seven years in Paris, Pradel returned to Guadeloupe in 1975. His Web site continues:
It was the start of a period marked by research in composition and by an introduction to music for dance. In June 1982, at Deshaies, the dream, the merger, became real with the writing of La cité de voile (The City of Sail), an original work for piano directly influenced by the mixing of cultures.
3 Sept pièces Créoles
Sept pièces Créoles (Seven Creole Pieces), Vol. 1, Dezi'l Production 001 (2000) is the first CD of Pradel's contemporary music for piano. It was recorded by the classical pianist Tatjana Rankovich in New York. The works are La cité de voile (3:58), Pomme canelle (2:50), Le château de cendre (6:12), Piro et fanfan (2:35), Vue de do (5:34), La préférée (3:57) and Eclipse (4:42). Tatjana Rankovich is also the pianist for Sept pièces Créoles, Vol. 2.

This page was last updated on January 23, 2021