Home
Blog
Composers
Musicians
Black History
Audio
About Us
Links
Composers:
Adams, H. Leslie
Akpabot, Samuel Ekpe
Alberga, Eleanor
Bonds, Margaret Allison
Brouwer, Leo
Burleigh, Henry Thacker
Coleridge-Taylor, Samuel
Cunningham, Arthur
Dawson, William Levi
Dede, Edmond
Dett, R. Nathaniel
Elie, Justin
Ellington, Edward K. "Duke"
Euba, Akin
Garcia, José Mauricio Nunes
Hailstork, Adolphus C.
Holland, Justin
Jeanty, Occide
Johnson, James Price
Joplin, Scott
Kay, Ulysses Simpson
Khumalo, Mzilikazi
Lambert, Charles Lucien, Sr.
Lambert, Lucien-Leon G., Jr.
Lamothe, Ludovic
Leon, Tania
Moerane, Michael Mosoeu
Perkinson, Coleridge-Taylor
Pradel, Alain Pierre
Price, Florence Beatrice Smith
Racine, Julio
Roldan, Amadeo
Saint-Georges, Le Chevalier de
Sancho, Ignatius
Smith, Hale
Smith, Irene Britton
Sowande, Fela
Still, William Grant
Walker, George Theophilus
White, José Silvestre
Williams. Julius Penson

AfriClassical Blog
Companion to AfriClassical.com

Guest Book
William J. Zick, Webmaster, wzick@ameritech.net

© Copyright 2006-2022
William J. Zick
All rights reserved for all content of AfriClassical.com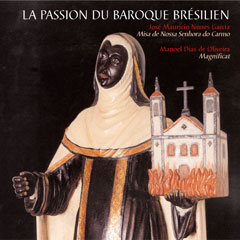 La Passion du Baroque Brésilien
(The Passion of the Brazilian Baroque)
Missa de Nossa Senhora do Carmo
& Matinas do Natal
José Mauricio Nunes Garcia
Association of Choral Singing
Cleofe Person de Mattos, Director
Camerata de Rio de Janeiro
Henrique Morelenbaum, Director
Jade 75443-2 (1991)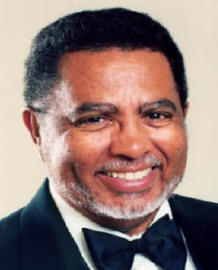 Adolphus Cunningham Hailstork
African Heritage Symphonic Series, Vol II
Epitaph for a Man who Dreamed - In Memoriam: Dr. Martin Luther King, Jr.
Chicago Sinfonietta
Paul Freeman, Conductor
Cedille 90000 061 (2002)

Homepage -> Composers
Composers of African Descent

Africans, African Americans & Afro-Europeans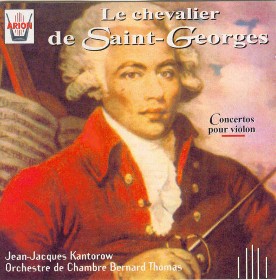 Violin Concertos, Op. 5, Nos. 1 & 2; Op. 3, No. 1; Op. 8, No. 9
Bernard Thomas Chamber Orchestra
Jean-Jacques Kantorow, Violin
Arion 68093 (1990)



AfriClassical Blog is a companion to AfriClassical.com Visit often to learn of current issues involving Black composers and musicians. For a free subscription, leave your E-mail address in the Subscription box in the right column of the blog's home page.

Welcome to a new world of classical music! Some of the music at this site was famous in France in 1800, or in the U.K. and North America in 1900, but is nearly unknown today. Many composers of African descent have won acclaim while alive, only to be neglected later. The above portrait of Le Chevalier de Saint-Georges (1745-1799) was painted in London in 1787 by the American artist Mather Brown. To illustrate his dual careers in classical music and fencing, the portrait shows Saint-Georges dressed to conduct an orchestra, but holding a sword in place of a baton.

Le Chevalier de Saint-Georges (1745-1799) was an Afro-French composer who was also France's best fencer. During the French Revolution he was Colonel of a legion of Black volunteers, and fought heroically. His works were seldom played after 1803, when Napoleon reinstituted slavery in France's colonies. The music of Saint-Georges was played with increasing frequency in the late 20th century, and much of it has been recorded since the 1970s.
José Mauricio Nunes Garcia (1767-1830) was a Roman Catholic priest and one of several accomplished Afro-Brazilian composers during the Portuguese colonial period. Each of his parents was the child of an African slave and a White plantation owner. Most of his music was liturgical; about 240 works survive. In 1817 Padre José Mauricio Nunes Garcia wrote Brazil's first opera, Le Due Gemelle (The Two Twins), which was later destroyed by fire.

Francis "Frank" B. Johnson (1792-1844) was a bugler, a popular band leader and one of five African American composers of his time in Philadelphia. In 1819 he published his first work, A Collection of New Cotillions. About 1830, Creole composers and musicians of color in New Orleans founded the Negro Philharmonic Society, a symphony orchestra comprised of more than 100 performers, including a few White members. Racial hostility put an end to the Society prior to the Civil War. Edmond Dede (1827-1903) and Charles Lucien Lambert, Sr. (c.1828-1896) were African American members and composers who fled New Orleans in the 1850s and made successful careers in France and Brazil.

Samuel Coleridge-Taylor (1875-1912) was an Afro-British composer who wrote a blockbuster musical called Hiawatha's Wedding Feast in 1898. It was performed 200 times in his short lifetime, and made his name a household word on both sides of the Atlantic. Half a century after his death, recordings of his music barely existed.

More than 90 sound samples can be heard at the Audio page and at pages on individual artists. The era of the CD and a new awareness of African heritage in classical music have resulted in a growing number of recordings. Smaller music labels accounted for many of the early CDs, but major labels are beginning to take part as well. Recordings are available at stores and at Web sites such as www.amazon.com www.arkivmusic.com and www.crotchet.co.uk

This Web site is designed to showcase many instrumental works and a few choral compositions now available on CD, and to give some biographical information about the creators of the music. The Audio link at left leads to dozens of sound samples. This introduction is followed by an outline of the heritage and birthplace of each composer. A guide to more than 300 CDs of 90 Black composers has been compiled and is maintained by Richard Greene of Temple University:
Classical Music Recordings of Black Composers
A more comprehensive list of composers of color is available at this page of the website of the Myrtle Hart Society

Composers of African Descent
I African
A Guinea
Sancho, Ignatius (Born on slave ship offshore)
B Nigeria
1 Akpabot, Samuel Ekpe
2 Sowande, Fela
C South Africa
1 Khumalo, James Stephen Mzilikazi
2 Moerane, Michael Mosoeu
II African American
A Brazil
Garcia, José Mauricio Nunes
B Canada
Dett, R. Nathaniel
C Cuba
1 Brouwer, Leo
2 Leon, Tania Justina
3 Roldan, Amadeo
4 White, José Silvestre
D Guadeloupe
1 Pradel, Alain Pierre
2 Saint-Georges, Le Chevalier de
E Haiti
1 Elie, Justin
2 Jeanty, Occide
3 Lamothe, Ludovic
4 Racine, Julio
F Jamaica
Alberga, Eleanor
G United States
1 Adams, H. Leslie
2 Bonds, Margaret Allison
3 Burleigh, Henry Thacker
4 Cunningham, Arthur - U.S.
5 Dawson, William Levi - U.S.
6 Dede, Edmond - U.S.
7 Ellington, Edward Kennedy "Duke"
8 Hailstork, Adolphus Cunningham
9 Holland, Justin
10 Johnson, James Price
11 Joplin, Scott
12 Kay, Ulysses Simpson
13 Lambert, Charles Lucien, Sr.
14 Perkinson, Coleridge-Taylor
15 Price, Florence Beatrice
16 Smith, Hale
17 Smith, Irene Britton
18 Still, William Grant
19 Walker, George Theophilus
20 Williams, Julius Penson
III Afro-European
A France
Lambert, Lucien-Leon Guillaume., Jr.
B United Kingdom
Coleridge-Taylor, Samuel

Women Composers of African Descent
A Cuba
Leon, Tania Justina
B Jamaica
Alberga, Eleanor
C United States
1 Bonds, Margaret Allison
2 Price, Florence Beatrice
3 Smith, Irene Britton
Birthplaces of Composers
A Brazil
Nunes Garcia, José Mauricio - Rio de Janeiro
B Canada
Dett, R. Nathaniel - Drummondville, Ontario
C Cuba
1 Brouwer, Leo - Havana
2 Leon, Tania - Havana
3 White, José Silvestre - Matanzas
D France
1 Lambert Jr., Lucien-Leon Guillaume - Paris
2 Roldan, Amadeo - Paris
E Guadeloupe
1 Pradel, Alain Pierre
2 Saint-Georges, Le Chevalier de
F Haiti
1 Elie, Justin - Port-au-Prince
2 Jeanty, Occide
3 Lamothe, Ludovic - Port-au-Prince
4 Racine, Julio - Port-au-Prince
G Jamaica
Alberga, Eleanor - Kingston, Jamaica
H Nigeria
1 Akpabot, Samuel Ekpe - Uyo, Akwa Ibom State
2 Sowande, Fela - Oyo
I South Africa
1 Khumalo, James Stephen Mzilikazi - KwaNgwelu
2 Moerane, Michael Mosoeu - Mount Fletcher
J United Kingdom
1 Coleridge-Taylor, Samuel - Croydon, England
2 Sancho, Ignatius (on slave ship)
K United States
1 Alabama
Dawson, William Levi - Anniston
2 Arizona
Kay, Ulysses Simpson - Tucson
3 Arkansas
Price, Florence Beatrice Smith - Little Rock
4 Illinois
a Bonds, Margaret Allison - Chicago
b Smith, Irene Britton - Chicago
5 Louisiana
a Dede, Edmond - New Orleans
b Lambert, Charles Lucien, Sr. - New Orleans
6 Mississippi
Still, William Grant - Woodville
7 New Jersey
Johnson, James Price - New Brunswick
8 New York
a Cunningham, Arthur - Piermont, New York
b Hailstork, Adolphus Cunningham - Rochester
c Perkinson, Coleridge-Taylor - New York City
d Williams, Julius Penson - New York City
9 Ohio
a Adams, H. Leslie - Cleveland
b Smith, Hale - Cleveland
10 Pennsylvania
Burleigh, Henry Thacker - Erie
11 Texas
Joplin, Scott
12 Virginia
Holland, Justin
13 Washington, D.C.
a Ellington, Edward Kennedy "Duke"
b Walker, George Theophilus


This page was last updated on March 5, 2022