Home
Blog
Composers
Musicians
Black History
Audio
About Us
Links
Musicians:
Blanke, John
Bridgetower, George A. P.
Chapman Nyaho, William H.
DePreist, James
Dworkin, Aaron Paul
Freeman, Paul
Johnson, Francis
Machado, Celso
Ngwenyama, Nokuthula
Wiggins, Thomas "Blind Tom"
Yifrashewa, Girma
AfriClassical Blog
Companion to AfriClassical.com

Guest Book
William J. Zick, Webmaster, wzick@ameritech.net

© Copyright 2006 - 2021
William J. Zick
All rights reserved for all content of AfriClassical.com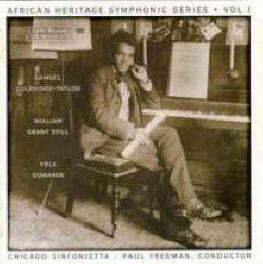 African Heritage Symphonic Series Vol. I
Cover: Samuel Coleridge-Taylor
Cedille 90000 055 (2000)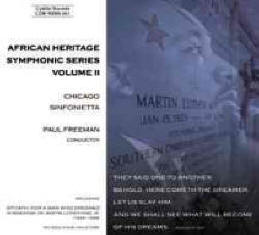 African Heritage Symphonic Series, Vol. II
Cedille 90000 061 (2001)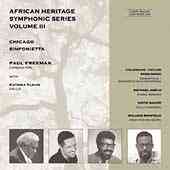 African Heritage Symphonic Series, Vol. III
Cedille 90000 066 (2003)
Photos Courtesy of Chicago Sinfonietta
Home -> Musicians -> Freeman, Paul

Français

Paul Freeman (1936 - 2015)

African American Conductor

Founder of Chicago Sinfonietta
---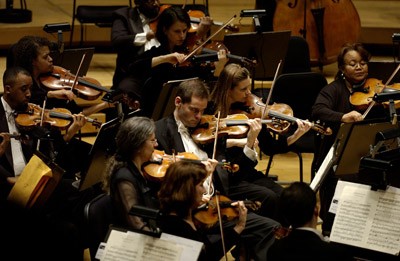 Chicago Sinfonietta String Players

Audio Sample: Cedille 90000 055 (2000); African Heritage Symphonic Series, Vol. I; Fela Sowande; African Suite I. Joyful Day

1 Music Studies
Paul Freeman was born in Richmond, Virginia January 2, 1936 and grew up there. He studied both clarinet and cello, then earned a Ph.D. at the Eastman School of Music. A Fulbright Grant enabled him to continue his studies in Berlin. Maestro Freeman passed away on July 22nd, 2015. See blog post here.
2 Conductor
Maestro Freeman founded the Chicago Sinfonietta in 1987 to achieve, in the words of its mission, "Musical Excellence Through Diversity". He served as Music Director from its founding through the 2010-2011 Season. Paul Freeman was succeeded by Sinfonietta Music Director Mei-Ann Chen The website of the Sinfonietta describes the other positions Paul Freeman has held:
In 1996, he was appointed music director and chief conductor of the Czech National Symphony Orchestra in Prague, a position he holds simultaneously with his Chicago Sinfonietta post. From 1979 to 1989, he served as music director of the Victoria Symphony in Canada, principal guest conductor of the Helsinki Philharmonic in Finland, associate conductor of the Dallas and Detroit Symphony Orchestras, and music director of the Opera Theatre of Rochester, New York.

A recipient of the Mahler Award for the European Union of Arts, Freeman is in constant demand as a guest conductor, having led more than 100 orchestras in over 30 countries. As one of America's most successful recording conductors, he has approximately 200 releases to his credit. His nine-LP series tracing the history of Black symphonic composers from 1750 to the present garnered a great deal of attention on the Columbia label in the mid-1970s.
3 Chicago Sinfonietta
On January 25, 2005 the Detroit Free Press published a story by music writer Mark Stryker entitled: A BLACK KEY: Conductor Paul Freeman, in town for the Sphinx Competition, adds color to the national classical music scene. Stryker begins with these observations about the Sinfonietta:
Black and Latino musicians account for about 3 percent of the musicians in American orchestras but about 30 percent of the Chicago Sinfonietta.

Most orchestras have practically all-white boards of directors and audiences, but about a third of the Sinfonietta's board is non-white and about 40 percent of its audience is minority. Most orchestras rarely play music by minority composers, but the Sinfonietta integrates these works throughout its entire season.
4 Diversity At All Levels
Mark Stryker reports that the Chicago Sinfonietta is characterized by diversity in all aspects of its operations:
When it comes to diversity, this is an orchestra doing a lot of things right. It should come as no surprise that its driving force is founding music director Paul Freeman, the widely-traveled African-American conductor who spearheaded a landmark series of black composer recordings for Columbia in the 1970s when he was resident conductor of the Detroit Symphony Orchestra.
"It's a total committment," says Freeman, 69. "Often an attempt is made to integrate one or two areas of an orchestra's programs, but we do it at all levels - on stage, soloists, repertoire, the board and audiences.
5 Concerts & Tours
Mark Stryker goes on to describe the makeup of the Sinfonietta, and its budget, tours and recordings:
With a $2 million annual budget, the Sinfonietta employs professional freelance musicians and performs a subscription series of five concerts performed in pairs at Orchestra Hall downtown and at Dominican University in suburban River Forest. Most unusual for an orchestra of its size, the Sinfonietta has toured overseas five times and made a dozen recordings, including an African Heritage Symphonic Series for Cedille Records devoted to black composers.
6 Musicians
The Detroit Free Press article describes the process by which the Chicago Sinfonietta selects the freelance musicians who make up the ensemble:
Freeman has called the Sinfonietta an affirmative action orchestra with no quotas and no numbers. He only selects players for the orchestra who meet the highest performance standards, and no one is displaced to make room for a minority player. But the orchestra keeps an extensive list of substitutes who are black or Hispanic. When an opening comes up, preference is given to a qualified player on the list.
7 African Heritage Series
As noted above, Paul Freeman and the Chicago Sinfonietta have completed their African Heritage Symphonic Series in three volumes. Many of the composers have their own pages at this Web site:
Vol. 1. Cedille 90000 055 (2000):
Samuel Coleridge-Taylor (1875-1912), Danse Nègre From African Suite (6:14)
Fela Sowande (1905-1987), African Suite (Selections) 10:02;
William Grant Still (1895-1978), Symphony No. 1 (Afro-American) (21:10).
Vol. 2. Cedille 90000 061 (2001):
Ulysses Kay (1917-1995), Overture to Theater Set (4:28)
George Walker (b. 1922), Lyric for Strings (5:17)
Roque Cordero (1917-2008), Eight Miniatures for Small Orchestra (11:47) Adolphus Hailstork (b. 1941), An American Port of Call (8:32), Epitaph for a Man who Dreamed (7:37), Hale Smith (1925-2009) Ritual and Incantations (12:45)
Vol. 3. Cedille 90000 066 (2003):
Michael Abels (b. 1962), Global Warming (8:18)
David Baker (b. 1931), Cello Concerto (19:56)
William Banfield (b. 1961), Essay for Orchestra (10:33);
Coleridge-Taylor Perkinson (1932-2004) Generations: Sinfonietta No. 2 for Strings (19:20).
8 David Nathaniel Baker
Paul Freeman Introduces David Baker is Albany Records Troy 843 (2006). The soloists are Jiri Novotny, trombone, and Thomas Walsh, saxophone. Maestro Freeman conducts the Czech National Symphony Orchestra. The CD is Volume 12 of a Paul Freeman series devoted to new orchestral music. The Albany Records Website says:
Throughout this series he has presented several works by the outstanding African-American composer David Nathaniel Baker (a previous all-Baker disc is on TROY 377). A native of Indianapolis, Baker holds the position of Distinguished Professor of Music and Chairman of the Jazz Department at the Indiana University School of Music.
ClassicsToday.com has published a review by David Hurwitz which rates both the performance and the sound of the disc as 9 of a possible 10. It opens with favorable comments on Kosbro (Keep on steppin' brothers!) and Fantasy on Themes from Masque of the Red Death Ballet. The review then discusses Concert Piece for Trombone and String Orchestra and Concerto for Alto Saxophone and Orchestra:
The best pieces, though, are the two concertos, both of which deserve to be in the repertoire of every self-respecting trombonist or sax player.
...
Paul Freeman has the Czech National Symphony playing with the necessary panache and rhythmic snap, and the engineering also is very good: warm and well-balanced.
This page was last updated on January 23, 2021