Home
Blog
Composers
Musicians
Black History
Audio
About Us
Links
Saint-Georges Sub-pages:
Gian Faldoni
Violin Concertos
Symphonies
String Quartets
Harpsichord Sonatas
AfriClassical Blog
Companion to AfriClassical.com


Guest Book
William J. Zick, Webmaster, wzick@ameritech.net

© Copyright 2006-2021
William J. Zick
All rights reserved for all content of AfriClassical.com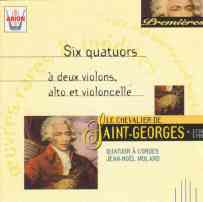 (1)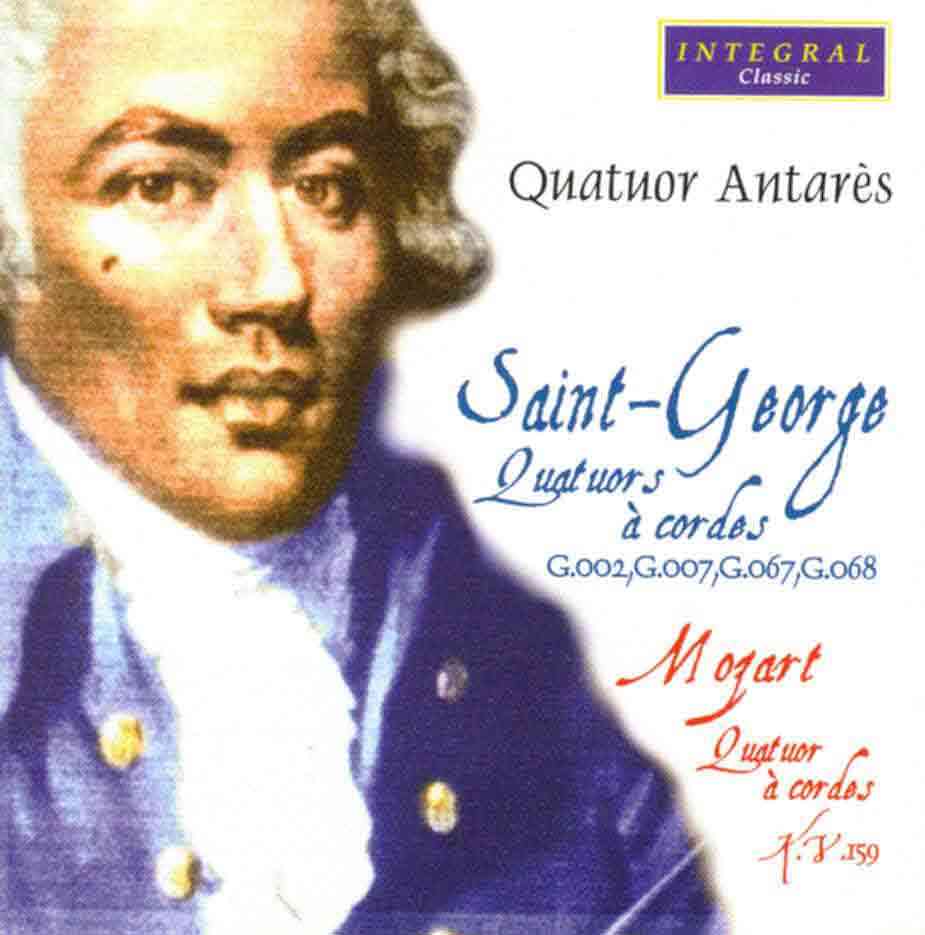 (4)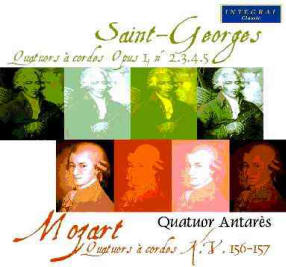 (3)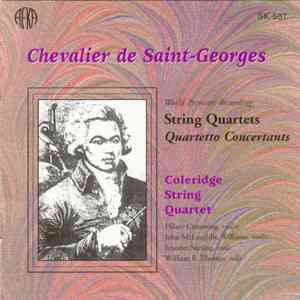 (5)
Home -> Composers -> Saint-Georges, Le Chevalier de -> String Quartets
(6) Avenira 276011 (2005)
String Quartets, Op. 14
No. 1 in D Major, No. 2 in B-flat Major, No. 3 in F Minor, No. 4
in G Major, No. 5 in E-flat Major & No. 6 in G Minor
Apollon String Quartet; Avenira 276011 (2005).
String Quartet No. 3 in F Minor
Michelle Garnier-Panafieu writes in the liner notes:

The Quartets Opus 14: tonalities and morphology, writing and style

This collection combines, in a manner very rare at this period, two quartets in the minor key. It comprises two groups of three quartets, each consisting of two works in the major and one in the minor key; I D major, II B flat major, III F minor, IV G major, V E flat major, VI G Minor. In keeping with a practice that was current in France and adopted by Saint-George in his preceding quartets (e.g. Opus 1, Allegro Rondo or Allegro Minuet) they are all in two movements, rather short and in the same key. Without any indication of tempo, the first movements are constructed like Allegros in sonata form. The final movements are more diversified and have dance allusions (Tempo di minuetto of No IV); they are winsome and ornamental variations (Andante con variatione) of No. I and II; or they are characterised by their dynamism (Vivace and Allegro of No. III and VI). Saint-George excelled at handling modal contrasts like so many lighting effects.
The writing is clear and well adapted to the instruments, the melody tuneful and tender, embroidered with elegant arabesques of quaver violets; the themes are gracious and full of charm, endued with a kind of creole languor and melancholy qualified with a tenderness that is sometimes almost Mozartian.
Far from being the monopoly of the first violin, the melodic phrase passes alternately from this to the second violin and, quite often, to the cello playing in various registers, or to the viola. Saint-George likes to repeat his themes, the second time in a low or high octave.
He uses the procedures of the Mannheim
School (such as the Vorhalt that produces an impression of painful or solemn insistence) and like Gasviniès and Le Duc drops languorous touches in the melodic texture. This succession of Soli - the alternation between episodes of opposing character (melodically and rhythmically), the recurrence of sequences designed to prepare for the entrance of the soloist and his triumphs of virtuosity, the influence of orchestral writing (in unison) and vocal music(opera, light opera or love-song) bestow on his works the concertante style already referred to.
Inspired by the vocal model, Saint-George seems to go along with the aesthetic ideas of Rousseau and Diderot in favour of nature. He was also influenced by the pre-Romantic aesthetic of Sturm und Drang (note in particular the quartets in F and G minor), to which most composers of the period paid their tribute.
(7) Assai 222622 (2004)
String Quartets, Op. 11
No. 1 in D Major, No. 2 in C-flat Major, No. 3 in F Minor, No.
4 in G Major, No. 5 in E-flat Major & No. 6 in G Minor
Quatuor Atlantis; Assai 222622 (2004)

(8) Integral Classic INT 221.148 (2005)
G.069, G.070, G.071, G.072
String Quartet in G Major, G.071
Antarès Quartet; Integral Classic INT 221.148 (2005)
Alain Guede writes in the liner notes:

The work of Saint-George follows his progression as a person, and we must thank the Antarès quartet for having undertaken this edition of the whole of his quartets. This third volume allows us to notice a fascinating development in the musical writing of the Black composer.
These quartets were written in 1779, a period during which his style solidified. Three years before, his opera La Chasse had been a great success at the Comédie Italienne, and was then played at the Court. This piece is now widely considered one of the greatest classical works. Saint-George soon crossed the line from the dialogue between voices to
the dialogue between instruments. Furthermore, the Parisian style was at that time the symphonia concertante, a new form characterized by a musical exchange between several soloist instruments. In 1776, his symphonies concertante for violin and cello G.037 and G.038 were also a great success. This success preceded that of Mozart, who, immediately after his second trip to Paris, delivered in 1779 his concertante for violin and viola.

The musical writing of this second booklet of Saint-George's quartets is filled with this "atmosphere" he contributed to inspire. His first opus, which he composed in 1772, was centred on the singing melodyof the first violin and was flooded with a very "Italian" lightness. The work of 1779 marked a very clear evolution. The cello steals the show from the violin. More exactly: it shares it. These quartets take often the form of a symphonia concertante in miniature, with a conversation -sometimes charming, sometimes grave - between the cello and the violin, and the
viola occasionally inviting itself to join the duo. A change appears in the immersion as well. The tonality is overall less light. Thus, the second movement of the quartet in G major N° 5 G.071 conceals melancholic accents of unsettling beauty. Antarès honors us once again with a delicate and intelligent
interpretation, which the audience of the
intellectual salons of the Enlightenment would have appreciated. This recording is a delightful contribution to the work undertaken by this talented quartet for nearly six years.
This page was last updated on January 3, 2021