Home
Blog
Composers
Musicians
Black History
Audio
About Us
Links
Saint-Georges Sub-pages:
Gian Faldoni
Violin Concertos
Symphonies
String Quartets
Harpsichord Sonatas

AfriClassical Blog
Companion to AfriClassical.com


Guest Book
William J. Zick, Webmaster, wzick@ameritech.net

© Copyright 2006-2021
William J. Zick
All rights reserved for all content of AfriClassical.com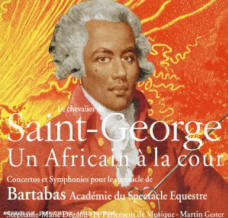 (2)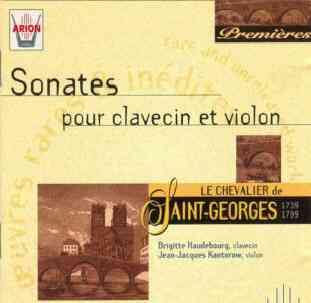 (3)

Home -> Composers -> Saint-Georges, Le Chevalier de -> Harpsichord Sonatas

Français

Saint-Georges Harpsichord Sonatas

Selected Recordings


---

Table of Contents


(1)

(1) BNL 112934 (2006)
The 10 Sonatas for Harpsichord
No. 1 in C Major, No. 2 in G Minor, No. 3 in D Major, No. 4 in D Major, No. 5 in B-flat Minor, No. 6 in E-flat Major, No. 8 in D Major, No. 9 in D Major & No. 10 in F Major & No. 11 in C Major Anne Robert, Harpsichord; BNL 112934 (2006). The liner notes observe:
The works that were published during Saint-George's life time, except for those in the BNF [French National Library], remain unfairly in the shade together with his 10 surprising Sonatas for harpsichord. They are polished and audacious, engaging, and astonishingly modern.

(2) Assai M10 (2004)
Opus 11, Sonata for Violin and Pianoforte in A Major
Stéphanie-Marie Degand, Violin ; Aline Zylberajch, Pianoforte; Orchestre du Parlement de Music ; Martin Gester, Conductor

(3) Arion 55445 (1999)
No. 1 in B-flat Major, No. 2 in A Major & No. 3 in G Minor
Brigitte Haudebourg, Harpsichord & Jean-Jacques Kantorow, Violin; Arion 55445 (1999). The liner notes by violinist Joel Marie Fauquet explain:
That Saint-Georges acquired mastery over his technique and sonority early on, to an extent that 'his velvety talent on the violin sometimes gave him preference over the cleverest artists of his day', must not lead us to imagine, owing to the gaps in musical history, a genius born fully prepared. The knowledge we possess of French music in the second half of the 18th century allows us to remark that Saint-Georges' way of handling the violin was undeniably daring and original, but it depended upon a firmly acquired knowledge, bequeathed to him by Jean-Marie Leclair in particular. Saint-Georges (who had been a 'gendarme du roy' since 1761) did not make his public debut as a violinist until the winter of 1772-1773, probably because it was only then, after a prolonged period of maturation, that he felt the time was right.
...

The Chevalier's sonatas are characteristic of the style galant. However, the charming melodic lines which are the result of this influence do not diminish the value of their purpose, although the writing of these works remains extremely simple.
This page was last updated on January 3, 2021